Start Campus is to break ground on a new data center campus in Portugal this week.
Start, owned by the North American Davidson Kempner and the British Pioneer Point Partners, is to start the construction of the first phase of the 495MW Sines 4.0 campus located in the Sines Industrial and Logistics Zone (ZILS).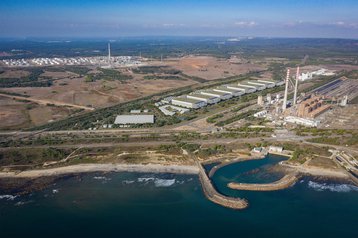 The first €130 million phase – known as Nest – is due to go live in Q1 2023. The first building will total 5,000 square meters (53,800 sq ft) and offer 15MW of capacity across six data halls.
"Sines 4.0 is now starting to be implemented on the ground and this is an important milestone for this project. This investment responds to two trends that have been confirmed in recent years: digital transformation and sustainability. We want to make a difference with what we are creating, generating qualified jobs and attracting more investment with a positive impact on the community in Sines," said Afonso Salema, CEO of Start Campus.
Located in Sines to the south of the country and first announced last year, the campus will consist of the first phase plus eight 60MW sea-water cooled buildings on more than 60 hectares of land adjacent to a recently decommissioned coal power plant in the city [previous reports suggested five 90MW buildings totaling 450MW].
The companies will invest up to €3.5 billion ($4.21 billion) into the project and aim to fully develop the site by 2027.
Davidson Kempner Capital Management is one of the largest hedge funds in the world, with more than $36 billion in assets under management. Last year Davidson Kempner Capital Management and Pioneer Point Partners invested €1bn ($1.2bn) in Echelon Data Centres.
The EllaLink cable has already landed in Sines, and the Medusa cable system is due to land there when it goes live in 2024.
More in Construction & Site Selection