DXN Limited has entered into an Exclusive Global Distribution Licence Agreement (EGDLA) and an Exclusive Global Consulting Services Agreement (EGCSA) with Flow2Edge.
This is the latest in a series of intended business dealings between the two companies.
Flow2Edge, a subsidiary of PAG's Flow Digital, will pay DXN AU$2m (~US$1.3m) for the licensing agreement. According to a DXN presentation, the EGDLA is a 10-year agreement that gives Flow2Edge exclusive access to the manufacturing of data center modules for the worldwide export market, excluding Australia. The deal also requires Flow2Edge to order a minimum of 10 modules from DXN in any one 12-month period, in return for favorable payment terms for production.
The companies have further signed an AU$1.5m (US$999,932) EGCSA (payable by Flow2Edge to DXN) which agrees on a three-year term in which DXN will provide Flow2Edge with consulting services in the APAC region to support Flow's Edge data center operations.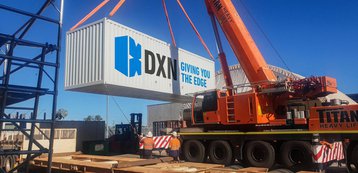 "The DXN team are immensely proud to partner with FLOW, a high-growth and innovative digital infrastructure platform, to assist in its ambitions to grow its presence in the Edge data center market. It's a testament to the hard work demonstrated by the DXN team and validation of our products, solutions, and customer-centricity," said DXN's CEO, Shalini Lagrutta. "With this partnership, DXN will be able to expand into the high-growth APAC market with a solid partner. We are excited about 2023 and beyond."
Amandine Wang, CEO of FLOW, added: "This strategic partnership will enable us to leverage DXN's superior Edge data center design and construction expertise, allow us to efficiently manage our supply chain, and deliver Edge-as-a-Service in the APAC region with the desired speed to market."
These two agreements between the companies are, hopefully, a satisfying resolution to an on-again-off-again partnership.
In August 2022, data center firm DXN announced that it was going to be selling all 'business assets and subsidiaries' to Flow2Edge, the new data center investment platform from investment manager PAG Real Estate. The deal was said to be worth AU$26 million ($18m) in cash, and to include shares in subsidiaries TAS01 (which holds DXN's Tasmania facility) and Secure Data Centre (which holds DXN's facility in Darwin) and all units in the SDC Unit Trust.
In September, the deal was amended for Flow to only acquire DXN's modular manufacturing unit, but by November 2022, the deal had fallen through entirely. In the presentation announcing the EDGLA and EGCSA, DXN did not elucidate any further on why the sale was abandoned, other than to say that the "transaction would not proceed after a significant condition precedence was not fulfilled."
Despite this disappointment, DXN reiterated at the time that the board intended to 'consider alternative strategic options' for its Edge module manufacturing business, including partnerships with PAG's Flow2Edge.
Flow's parent company PAG is reportedly one of several companies potentially interested in acquiring Global Switch.
More in The Edge Computing Channel