Digital Edge has announced that its first data center in the Philippines is ready for service.
Offering 10MW of capacity, the Narra 1 data center is housed in Binan Laguna, Manila, and will provide colocation and interconnection services to the region. The facility has 2,200 cabinets and a PUE of <1.2. The data center is hoped to be carbon-neutral by 2030 and to source at least half of its power from renewable sources by 2025.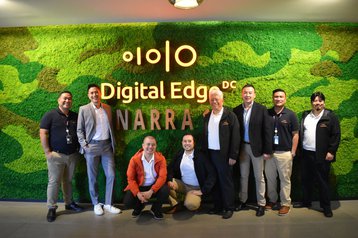 The data center project was first announced in December 2021 as a joint venture between Digital Edge and Threadborne Group, both of which committed $100m to be invested in the project.
In a LinkedIn post, Digital Edge said: "Special thanks to our partners the Threadborne Group and all those involved in bringing this groundbreaking project to life. Manila, we are ready for you!"
The companies are already eyeing opportunities for expansion. The Philippine News Agency, a government-run publication, released an article on February 27 stating that the two companies are 'already studying options for a second site.'
Jonathan Chou, chief product officer at Digital Edge, said in a briefing that the company was looking to compete with data centers overseas in Singapore, Hong Kong, and the United States, and don't see local counterparts as their competitors.
Chou went on to say that the company is looking at a future data center, though did not add specifics beyond that it would be 'bigger' than Narra 1 and materialize in the next five years.
Structure Research predicts that the Philippines colocation market will grow to US$313m by 2026. In January 2023, two other companies announced intentions to build in Manila. Megawide is looking to develop a 30MW data center while Arch Capital announced plans for a 70MW facility under its new firm, Digital Halo.
Digital Edge currently operates 16 data centers across Asia which offer a combined total power capacity of 510MW+. The company is looking to expand its footprint further, aiming to see it double by 2028.
In September 2022, Digital Edge broke ground on its Jakarta, India data center. It is looking at entering Thailand, and in January 2023 announced plans for a 300MW data center in Navi Mumbai, India.