APAC real estate investment firm Arch Capital is launching a new platform to invest in digital infrastructure in the region and is planning a data center in Manila, the Philippines.
The company this week announced the launch of Digital Halo (DH), co-founded by Arch president Charles Cosgrove and Keppel's Kai Goh, which will invest in, develop, and operate digital infrastructure assets including data centers, fiber, and towers, as well as renewable power.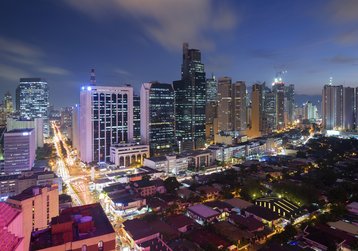 In the data center sector, DH will offer built-to-suit and colocation solutions to meet hyperscale and enterprise customer requirements in the target markets. The company's first facility will be launched in Manila in the Philippines.
Digital Halo aims to manage and own a proposed 70MW data center campus on a 3.75-hectare freehold land parcel in Cainta. The proposed development involves a retrofit of an existing industrial facility with 6MW planned IT capacity in the first phase, commencing by the end of 2023.
Cosgrove, currently president of Arch Capital, will serve as executive chairman for DH. He has previously held roles at Singapore Telecom and Ayala Corporation.
Goh will serve as DH's chief investment officer and chief operating officer; previously he was with Keppel Group where he held senior positions at Keppel Data Centres and Keppel Capital, including head M&A and strategic initiatives at Keppel Data Centres.
Tan Lee Kheng, who previously led the engineering and project management teams at Keppel Data Centres, will be appointed chief technology officer.
"From our home in Singapore, I see a bright and compelling future for Digital Halo's highly focused strategy on key regional markets and customers. We are in the right place at the right time," said Cosgrove.
Goh added: "I am excited to build Digital Halo from the ground up with a talented team. With our effort as well as the trust and support of our customers, investors, and partners, we look forward to making Digital Halo a Singapore success story."
Originally founded in 2006 as a joint venture with Ayala Group of the Philippines, Arch Capital is an independently owned real estate private equity investment platform focused on Asia Pacific. Last year Canada's Manulife Investment Management took a 'significant' minority share in the company.
Its investments include commercial offices, residential developments, and retail sites across Hong Kong, China, Australia, Thailand, Taiwan, Singapore, and the Philippines.
"The digital infrastructure sector in Asia is among the fastest growing markets in the world, with demand outpacing supply. We are delighted to welcome the Digital Halo team, who bring exceptional and unparalleled expertise and experience in telecommunication and data centers to the platform," said Richard Yue, founder and CEO of Arch Capital.
Myron Zhu, head of private markets, Asia, Manulife Investment Management, added: "Digital Halo further extends Manulife Investment Management's private markets buildout in Asia leveraging on the strong strategic partnership with Arch Capital. The Digital Halo launch underscores our strong commitment to Asia and provides the foothold for our investments into the digital infrastructure sector in Asia (ex-China), taking our trademark approach in combining local investment expertise with global institutionalized standards and enhancing our offerings to investors."