Digital Edge is planning to more than double its data center capacity over the next five years and is planning to enter India and Thailand.
New York-based private equity firm Stonepeak Infrastructure Partners formed Digital Edge in August 2020. The company has more than a dozen data centers in operation or construction across the APAC region; including eight in Japan across Tokyo and Osaka; three in South Korea across Seoul, Busan, and Incheon; and one each in Manila in the Philippines and Jakarta in Indonesia.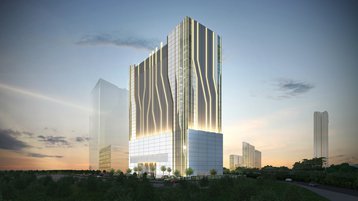 Digital Edge chief executive officer Samuel Lee told Mingtiandi this week that the company's goal is to grow its portfolio to 500MW in the next five years, up from 210MW currently.
"When we talk about Asia, we cannot ignore one of the biggest tech markets which is India so we are definitely looking at that market. It is a very big market for data centers, there's lots of players and population-wise, it is a big country and Internet infrastructure basically follows the population," he said.
"The general rule is we will follow where our customer wants us to go. If you follow the news about the announcement of the Google Cloud provider, you will find a lot of them just announced they are going into Bangkok," he added. "When a market has those types of attractions, obviously it will be on our radar screen."
The company is also planning a second facility in the Philippines, where it is developing a 10MW facility in Manila.
"I'm sure our second data center in the Philippines will be far bigger than just 10MW because the market is just growing very fast," said Lee, who previously served as president of Equinix's Asia Pacific business.
More in Colocation & Wholesale