Digital Edge has launched a joint venture with Philippines real estate firm Threadborne Group, to build a 10MW data center in Manila.
The two companies have committed $100 million to the Digital Edge branded facility, which is already under construction and due to be open by the end of 2022, offering colocation and interconnection to both local and international customers in the Greater Manila region, aiming to serve cloud operators.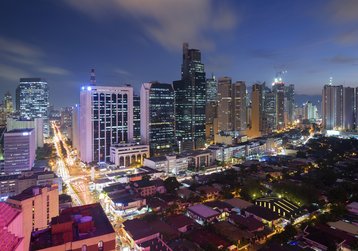 Digital is aiming for efficiency with the new data center, which is projected to have an annualized PUE (power usage effectiveness) of 1.193 at optimal operating temperature and WUE (water usage effectiveness) of 1.355.
The Philippines is predicted to have a $313 million colocation market by 2026, according to Structure Research, growing at a CAGR of 22 percent between 2021 and 2026.
"Alibaba Cloud is currently the first and only hyperscale cloud platform to announce a cloud region deployment in Manila, Philippines, and we believe more cloud region announcements will soon follow in the next two years driven by the overall decentralization of hyperscale cloud platforms into more distributed and in-country data center architectures to cater for the increasing performance requirements and data privacy regulations," said Jabez Tan, head of research at Structure Research.
"The Philippines is an underserved market with huge demand for data center capacity and, together with the Threadborne Group, we intend to be at the forefront of developing the critical data center infrastructure for this market," said Samuel Lee, CEO of Digital Edge. "The Threadborne Group's principals are experienced real estate developers with a proven track record and we are very pleased to have joined forces with them to undertake this important initiative."
Jay Park, Chief Development Officer of Digital Edge is excited about the design's energy and water efficiency: "Given Manila's hot and humid climate, it is extremely difficult to achieve an annualized PUE of 1.193 at the optimal operating temperature. The WUE of 1.355 is also significant in that it uses less than a quarter of the water needed for cooling when compared to traditional style cooling tower type setups. These are industry-leading numbers. We will be seeking LEED Gold certification, EDGE certification, and participating as an early pilot partner for BERDE (Philippines Local Green Building Certification). This data center will most certainly put the Philippines into the league of having one of the most advanced data centers in Asia."
The facility brings Digital Edge to a footprint of 13 data centers in four countries.