DBT Development Group is planning a new data center campus in the New Albany area of Columbus, Ohio.
Washington DC-based DBT-Data plans to develop a data center at the New Albany International Business Park, close to Intel's upcoming chip fab site.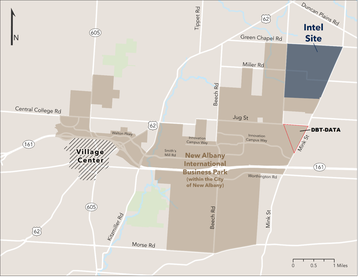 When complete, the $1 billion project from DBT-Data could span up to 1 million square feet (92,900 sqm) of powered shell facilities, CEO David Tolson told BizJournal. It is the company's first project in Ohio.
"The New Albany International Business Park has built a national reputation as a reliable location for mission critical facilities," said DBT-DATA CEO, David Tolson. "Demand for data center space continues to grow and users appreciate the flexibility that comes with a completed building already prepared to meet their technology needs that can be finished to their exact specifications."
DBT-DATA is an affiliate of DBT Development Group, LLC, a Washington DC-based real estate development company and has traditionally focused on acquiring and/or developing in Virginia's Loudoun County.
The company has acquired more than 93 acres near Clover Valley Road, Jug Street and Mink Street for around $21 million. The company is yet to finalize designs, but could be planning up to three buildings.
DBT is under exclusive negotiations with an unnamed company that could be taking the entire site.
The site is close to the future home of Intel Corp.'s planned semiconductor fabrication complex, although Tolson said DBT had the land under contract prior to the announcement of that $20 billion project.
"DBT-DATA is a respected and experienced developer and we're pleased they'll be delivering this important data center option for prospective tenants of all sizes in the New Albany International Business Park," said Bill Ebbing, president and CEO of New Albany Company. "Our mission critical cluster in the park continues to grow as existing companies like Meta, AWS and Google expand and new businesses establish operations here."
While the greater Columbus area is a data center hotspot in itself, New Albany is seeing major developments arrive. Lincoln Property Company & Harrison Street are developing a data center park near the Intel fab site, while Google and Meta have campuses nearby. AWS is also developing in New Albany.
On its website, DBT Data says its previous projects include 44633, 44610, and 44664 Guilford Drive in Ashburn, Virginia – the former occupied by CenturyLink and sold in 2014, the latter two leased to NTT; 21800 Beaumeade Circle, sold to H5 in 2015; and 511 Shaw Road in Sterling, sold in 2015 and occupied by CyrusOne.
DBT's current data center project is Tuscarora Crossing; a 250-acre mixed-use development in Leesburg, Virginia, that includes 41 acres for data center development. The site would allow for 718,000 sq ft of data center development and up to 1.7 million SF using a special exception from Loudoun County