A New Zealand data center firm has bought a large plot of land on the South Island and is working towards building a hyperscale facility there.
First announced in December 2020, Datagrid – founded by Hawaiki Cable's Remi Galasso alongside Callplus Ltd founder Malcolm Dick – aims to develop a large data center on New Zealand's South Island. Partnering with Meridian Energy, the facility will be the first hyperscale data center in the area. The facility will draw energy from the Manapouri hydropower scheme, which is due to have a large surplus once the Rio Tinto aluminum smelting facility at Tiwai Point closes in 2024.
This week Stuff.nz reports that Datagrid has bought a 43-hectare site in North Makarewa near Invercargill and plans to file an application to begin construction soon.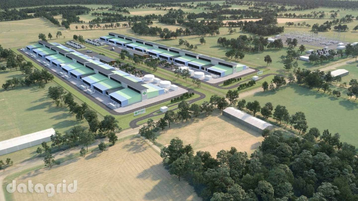 The company said it had begun discussions with Southland District Council consent for the data center on the site, located between Flora Road East and Taylor Road in North Makarewa, and will formally apply for permission later this year. The company aims to build up to ten 6,500 sqm (70,000 sq ft) modules totaling around 150MW of capacity.
"We expect to start construction as soon as we get resource consent from Southland District Council, hopefully in the second half of this year," said Galasso. "We are quite advanced with a few anchor customers, and we expect to make further announcements."
The initial build would probably be for one module, at a cost of more than NZ$100 million (US$68m) and should be complete by the end of next year. The company did not disclose what it paid for the land.
This week also saw Singaporean shipping giant BW Group invest in the company, agreeing to acquire a 37.5 percent stake in its holding company previously held by CallPlus founder Malcolm Dick. Last year BW announced it was acquiring the Hawaiki cable, also led by Datagrid's Galasso.
BW Group chairman Andreas Sohmen-Pao said Datagrid would allow "New Zealand's renewable power to be applied towards sustainable digital infrastructure and connectivity for the country."
The Chilean Government's infrastructure fund Desarrollo Pais recently announced it had selected Galasso's H2 Cable, a subsidiary of BW Digital, as its strategic partner for the development of the 14,810km Chile-Sydney Humboldt cable system. The cable will include several branches for the possible connection of other countries and territories, such as Juan Fernandez and Easter Islands, as well as New Zealand, likely at Invercargill.
In November, Hawaiki announced its second cable project. Hawaiki Nui will connect South-East Asia, Australasia, and North America; the 12 fiber pair, 240Tbps cable will connect Singapore, Sydney, and Los Angeles, as well as New Zealand via Invercargill.
Both AWS and Microsoft are planning cloud regions in New Zealand, but both are planned for Auckland. Australia's DCI is also planning a facility in Auckland. UK-based digital infrastructure startup Lake Parime plans to build a 10MW data center near Clyde, on New Zealand's south island.
More in Construction & Site Selection