Amazon Web Services has announced plans to open a new Cloud Region in New Zealand in 2024.
As usual with AWS Regions, the new Asia Pacific (Auckland) Region will consist of three Availability Zones (AZs).
"The new AWS Asia Pacific (Auckland) Region will enable even more developers, startups, and enterprises as well as government, education, and non-profit organizations to run their applications and serve end-users from data centers located in New Zealand, ensuring that customers who want to keep their data in New Zealand are able to do so," the company said.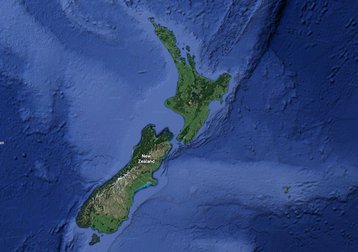 AWS said it will be investing NZ$7.5 billion (US$5.3 billion) in the region, creating around 1,000 jobs. It claims the new infrastructure will have an estimated economic impact on New Zealand's GDP of NZ$10.8 billion (US$7.7 billion) over the next 15 years.
"AWS supports thousands of organizations across New Zealand in their drive to innovate, succeed, and grow globally," said Prasad Kalyanaraman, vice president of infrastructure services, AWS. "Our investments reflect AWS's deep and long-term commitment to New Zealand. We are excited to build new world-class infrastructure locally, train New Zealanders with in-demand digital skills, and continue to help local organizations deliver applications that accelerate digital transformation and fuel economic growth."
AWS' most significant infrastructure investment in New Zealand prior to this announcement was buying capacity on the Hawaiki cable system which runs from the US to Australia via New Zealand, American Samoa, Pacific Island, and Hawaii. It has also launched two Amazon CloudFront edge locations and AWS Outposts in Auckland.
The company said it already has a number of customers in the country, including Air NZ, ANZ Bank, Bank of New Zealand (BNZ), Contact Energy, the New Zealand Department of Conservation, Lancom, New Zealand Ministry of Health, New Zealand Ministry of Justice, and the University of Auckland.
"It's fantastic to see AWS investing and developing their capabilities in New Zealand," said Michael Bullock, CIO of ANZ New Zealand and Pacific. "Our tech sector is world-class, and this sort of investment is a great step toward providing New Zealand with greater technical resilience and opportunities for innovation."
Microsoft is currently developing its own New Zealand Azure region. Google recently launched a new Point of Presence in New Zealand following the opening of a new GCP region in Melbourne, Australia.
More in Cloud & Hyperscale