Amazon Web Services has made its first investment in a submarine cable system, purchasing capacity on an upcoming Hawaiki Submarine Cable connecting Australia and New Zealand to the US.
The cable system is expected to boost bandwidth and reduce latency on a key route across the Pacific, something that will now directly benefit AWS customers.
"The role of the network, as well as the many AWS Regions around the world, is especially important for our customers looking to run global businesses and become more agile," said Paul Migliorini, managing director of AWS Australia and New Zealand.
"Increasingly, companies of all sizes and across all industries in ANZ are using the AWS Cloud to drive innovation in their business while reducing the costs of their IT operations. With AWS, our customers are also able to expand internationally in minutes."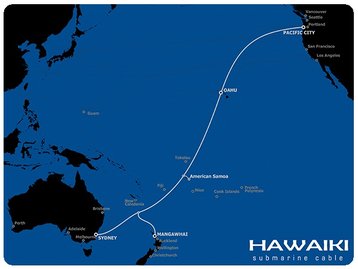 14,000 km of fiber
The Hawaiki Submarine Cable is a carrier-neutral system that will stretch from Sydney in Australia and Mangawhai in New Zealand all the way to Pacific City in the US, making stops at American Samoa and Hawaii islands.
It will become the fastest, highest capacity connection between the US, Australia, New Zealand and the Pacific Islands, once it goes live in June 2018.
The cable system will offer more than 30 Terabits capacity, featuring coherent D+ fiber design and 100x100G wavelengths.
The system will be manufactured and installed by TE Subcom - a subsidiary of the American industrial networking giant TE Connectivity (formerly Tyco Electronics) that operates a fleet of eight specialized cable ships.
AWS currently runs 33 Availability Zones across 12 geographic regions worldwide, including one in Sydney. Another five regions and 11 Availability Zones have been announced and will launch sometime next year. These involve new data center projects in Canada, China, India, the US and the UK.