DataBank is expanding its DFW3 data center in Dallas, Texas.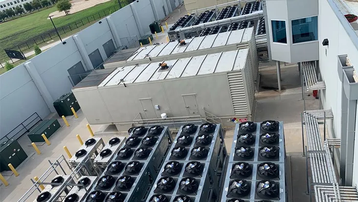 The company is adding 22,000 sq ft (2,044 sqm) of raised floor data center space and 3MW of critical power.
The DFW3 data center is housed on a 16-acre campus at 8375 Dominion Parkway. It currently offers 20MW of critical power and, according to the company website, 13.5MW of IT load. The facility connects to DataBank's other data centers in Dallas.
"The Plano campus design streamlines this expansion as we had already created scalable space and power options for customers requiring higher-density colocation services," said DataBank vice president of Construction, Tony Qorri.
"The expansion of our very first data center also syncs with the growing importance of the Dallas area in the data center ecosystem that connects users across the US and South America."
The facility was also expanded in 2021, with DataBank adding 12,000 sq ft (1,100 sqm) of space and 1.5MW to the facility. At full build out, DFW3 could reach six data halls with 72,000 sq ft (6,700 sqm) of floor space and up to 40MW of capacity.
DataBank has a total of seven data centers in Dallas offering a combined IT load of 33.3MW.
In August of this year, DataBank announced that it had completed expansions of seven of its data centers, located in Dallas, Texas; Las Vegas, Nevada; San Diego & Irvine, California; Kansas City, Missouri and two in Atlanta, Georgia.
Dallas has a significant data center market, with operators including Digital Realty, Evoque, Cologix, Flexential, CoreSpace, Equinix, and CyrusOne having a presence in the city.
More in Construction & Site Selection