Equinix plans to expand the iconic Infomart building in Dallas, Texas.
The $180 million expansion follows a 2020 addition for $142m, which Equinix made two years after acquiring the building at 1990 N. Stemmons Freeway for $800m.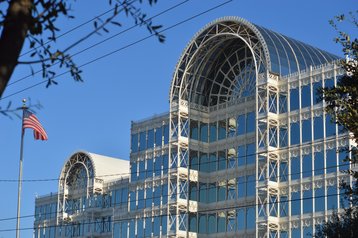 The Dallas Morning News reports that the new expansion will add more than 211,000 square feet (19,600 sq m), and will include a four-story office and a four-story data center, according to planning documents filed with the state.
The Infomart was originally built to house a permanent trade show for information technology vendors, and the design was based on the Crystal Palace, a giant glass and steel structure that served a similar purpose in Victorian Britain.
From 2000, the building's owner, ASB Real Estate, developed the Infomart as a carrier hotel, and then merged the facility with a wholesale data center company, Fortune Data Centers, to create a national data center operator.
After selling Infomart (the building), Infomart (the company) realized that its brand was a little confusing. In 2019, it was merged with facilities from T5 Data Centers to create a new business, Stack Infrastructure.