Equinix has opened a $142m data center expansion to the Infomart Dallas carrier hotel it acquired in 2018 for $800m.
At Infomart, the data center and interconnection giant also opened a 5G and Edge Proof of Concept Center (POCC) to provide a sandbox environment for Mobile Network Operators (MNOs), cloud platforms, technology vendors and other enterprises.
Data palace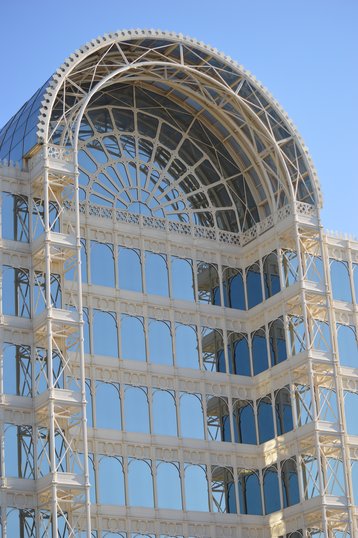 The Infomart was originally built to house a permanent trade show for information technology vendors, and the design was based on the Crystal Palace, a giant glass and steel structure which served a similar purpose in Victorian Britain.
From 2000, the building's owner, ASB Real Estate, developed the Infomart as a carrier hotel, and then merged the facility with a wholesale data center company, Fortune Data Centers, to create a national data center operator.
After selling Infomart (the building), Infomart (the company) realized that its brand was a little confusing. Last year, it was merged with facilities from T5 Data Centers to create a new business, Stack Infrastructure.
Equinix's new expansion, DA11, provides capacity for 1,975 cabinets and 72,000 square feet (6,700 sq m) of colocation space in its first phase. At full build out, the facility is expected to provide a total capacity of more than 3,850 cabinets and colocation space of more than 144,000 square feet (13,400 sq m)
"We are seeing significant customer demand in Dallas as enterprises look to increase their business offerings through implementing IT infrastructures that are able to keep pace with the continually evolving digital landscape," Jon Lin, President of Americas, said.
"We are thrilled to bring our ninth facility to the Dallas campus online in this increasingly important and growing market."