CorScale, a new data center firm currently building a hyperscale campus in Virginia, is close to filing for planning permission for its first international facility in the UK.
Nic Bustamante, Senior Vice President at Corscale/Patrinely Group, told DCD last week that the company is "days away" from filing for planning permission for its first data center in the country, to be located outside London in Iver. The company is planning to serve hyperscale companies.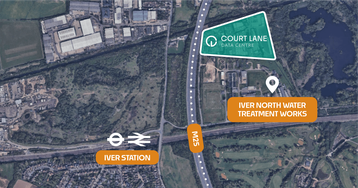 CorScale is planning a 140MW campus comprising two four-level buildings in Iver, Buckinghamshire. The Court Lane site is currently a 14-acre industrial estate, comprising a mix of occupiers from vehicle storage, scrap metal recycling and office uses. The site also includes a Grade II listed building (Iver Court Farmhouse) which is currently used as a multi-tenant office building.
"We have our site in London is at the outline consent stage, and we are days away from submitting to Bucks council for our outline consent plan, hoping to get approval from that," Bustamante told DCD. He said that a "significant user" is interested in that site and looking to provide a letter of intent for it and it should be pre-leased soon. He notes, however, that the company is 'several years' away from starting development there.
Nestled between existing data center hotspots Slough and Hayes, Iver isn't traditionally a major development area for data centers. However, Segro, CyrusOne, and Amazon are looking to develop data centers in the area. CorScale's site is located in the south of Iver, close to Segro and Amazon's sites, while CyrusOne's is located further north.
Founded by real estate firm Patrinely Group and backed by USAA Real Estate, the company is close to finishing its first building at its debut campus in Virginia's Prince William County. The first 72MW phase is expected to come online in Q4 2022 and will consist of a single, two-story building with eight data halls and office space totaling approximately 483,000 square feet (44,900 sqm). At full build-out, the campus will comprise 2.3 million sq ft (213,700 sqm) over five two-story buildings and 306MW of utility power.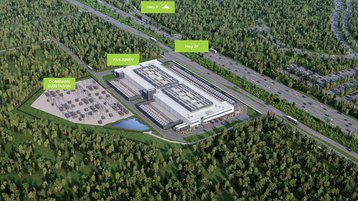 But CorScale is seeking to establish itself as a larger player and currently lists four other planned facilities on its website. As well as London and the Prince William site, the company is planning additional developments in Virginia and California.
As well as Gainesville Crossing in Prince William County, the company is planning a second Virginia development in the Kincora area of Sterling in Loudoun County. Sat on a 22-acre site, the company is planning a single, 500,000 sq ft (46,450 sqm), three-story building, consisting of eight 9MW data halls. The company has planning permission and anticipates starting construction on that site around this time next year.
"We may accelerate that depending on the power situation in Loudoun," said Bustamante. "It did affect that site to some degree, although we're seeing Dominion make great progress, really quick progress to fix that."
The company is also planning a 400,000 sq ft (37,160 sqm), 72MW in Santa Clara, California. Again Bustamante said that is a four-level data center, but as it's in the constrained Silicon Valley Power area, power will take longer.
"We do have line of sight to some bridging power there, and then permanent power would probably not be until 2026 or so," he said. "That one's received a lot of interest from two or three service providers."
Future developments without any details are flagged in Denver, Colorado; Phoenix, Arizona; Hillsboro, Oregon; and San Antonio, Texas.
More in Construction & Site Selection