New data center developer Corscale has broken ground on the first building of a 300MW, 130-acre data center campus in Northern Virginia.
Corscale is the recently-launched data center platform of real estate firm Patrinely Group and its capital partner, USAA Real Estate, and this is its first development.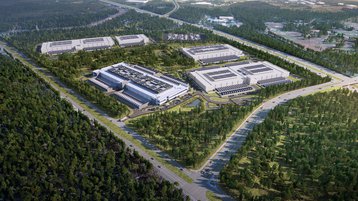 The first 72MW phase is expected to come online in Q4 2022 and will consist of a single, two-story building with eight data halls and office space totaling approximately 483,000 square feet (44,900 sqm). At full build-out, the campus will comprise 2.3 million sq ft (213,700 sqm) over five two-story buildings and 306MW of utility power. A Dominion Energy on-site substation will deliver power.
DCD reported in December 2021 that Corscale was behind the Gainesville Crossing Data Campus is being built on Interstate-66 in Prince William County Northern Virginia. The site was bought for $74.5 million in August 2020, by real estate firm Wolff Co, on behalf of the front company GCDC Purchaser, which now appears to be Patrinely.
Prior to its official launch, Corscale's existence was revealed in a press release that said the nascent data center division was signed up to use Ledger7860's carbon accounting package.
"This launch of Corscale's Northern Virginia data center campus is a testament to our vision to develop a global portfolio of sustainable data centers," said Stuart Levinsky, Senior Vice President, Sales & Marketing at Corscale. "It will be one of the largest data center developments in Prince William County to launch in 2022."
"Corscale is focused on implementing industry-leading de-carbonization and sustainability initiatives. We want to ensure that as stewards of critical natural resources, we enable our client's own goals through real-time energy transparency," said Nic Bustamante, senior vice president of Development for Corscale.
Corgan Associates is the architect for the project and HITT Contracting is the general contractor. The company said the first building is available for lease now.
Corscale said its expansion plans for the future include the development of sites in London, UK; Santa Clara, California; Texas; and an additional site in Northern Virginia.
More in Construction & Site Selection