Amazon's data center wing has acquired an industrial logistics estate in the UK near Slough, outside London.
First reported by CoStar, Amazon Data Services has bought Ridgeway Distribution Centre in Iver, Buckinghamshire, from investment firm Abrdn for £132.5 million ($165.6m) in an off-market deal.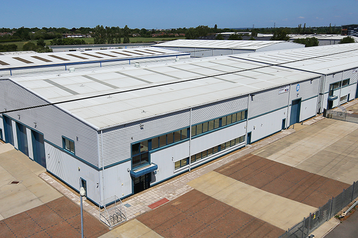 While Amazon owns and leases a large number of distribution facilities across the UK totaling millions of square feet, Amazon Data Services is usually the wing through which the company makes data center land purchases, suggesting the site could be used for a data center.
The industrial estate totals 381,740 sq ft (35,500 sqm) across 17 units with 12 occupiers. The site includes four newly-refurbished units; two measuring 19,538 sq ft, one 32,750 sq ft, and one 45,000 sq ft.
Iver is a few miles east of Slough, which is one of the major data center hubs in the greater London area and home to a number of large-scale developments.
Amazon Web Services currently has one UK cloud region located in the Bristol area (though it is named as 'London'). The company recently announced it would spend £1.8 billion ($2.37bn) in the UK over the next two years on building and operating data centers.
However, the company provided no details on how that money would be spent or if that means new cloud regions in the UK. Despite the lack of clarity, Amazon appears to be working on at least three other new data center developments in the UK.
AWS seems to be working with CloudHQ to develop a data center campus at Didcot Power Station. DCD was the first to reveal AWS' involvement in the project, while Dgtl Infra has reported CloudHQ's involvement and the delays the project faces.
The company is also thought to be involved with a proposed development on a site near Swindon, currently occupied by two former Hewlett-Packard (HP) data centers that were switched off in 2020.
A proposed data center on another former HP site in Bracknell being built by Edgecore is also tied to AWS. The company has made no official comment on any of the three developments.
DCD has previously reported on the growing competition between the data center and logistics sectors for prime land, especially in constrained markets. In the latest issue of DCD Magazine, we explore the increasing number of logistics real estate firms looking to partner and develop data centers on their landholdings.