Plans for a new data center on the site of a former HP office have been submitted in the county of Berkshire, UK.
The plans, submitted to Bracknell Forest Council, would see a new 8,692 sqm (93,500 sqft) building erected on the former Hewlett Packard site on Cain Road in Bracknell, Berkshire; 7,267 sqm (78,200 sq ft) for a data hall and 1,425 sqm (15,300 sq ft) for office and personnel space.
The development would bring a new data center and 'associated auxiliary buildings' including offices, emergency generators and emission stacks, diesel tanks and filling area, electrical switchroom, water sprinkler pump room and storage tank, gatehouse/security building, internal access roads, drainage infrastructure, and landscaping.
For breaking data center news, features, and opinions, subscribe to DCD's newsletter
Edgecore comes to the UK?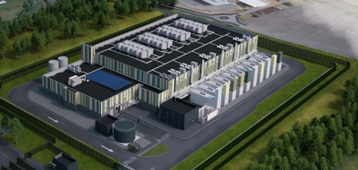 The 6.8 hectare site was previously used by HP for offices, and currently has two existing commercial office buildings and a car park. Construction is estimated to take 10 – 12 months to complete and commence at the start of Q3 2021. The council has yet to make a decision on the proposals.
Plans were submitted by professional services firm RPS on behalf of a company known as Mount Elbert Edgecore Services LLC. Edgecore was formed by Mount Elbert Capital Partners, GIC, and OPTrust in 2018 to develop, acquire, and operate data centers across North America. Edgecore has facilities in Ashburn, Virginia; Phoenix, Arizona; Reno, Nevada; and Santa Clara, California. Mount Elbert Edgecore Services (Europe) ltd was incorporated in the UK in June 2020.
An energy statement for the project, produced by Cundall, says that the proposed facility would use "high efficiency" evaporative cooling units, and a combination of solar panels and a ground source heat pump would account for 24 percent of the energy demands of the admin block.
Plans for a 24-unit business park to be called 'Network West' to be built on the site were submitted last year. It was hoped the business park would be able to attract data centers or film production facilities to the area.
DCD has reached out to Edgecore for comment.