The recently established infrastructure consortium EdgeCore Internet Real Estate has acquired 36.8 acres of land in Sterling, Virginia, planning to turn the site into a 144 MW datacenter campus.
The project will comprise four separate facilities, at 36MW each. Construction work will commence immediately, but there's currently no information on the opening date.
Hyperactive hyperscale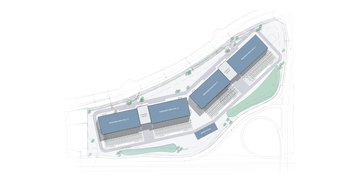 EdgeCore is a partnership between Mount Elbert of Colorado, Singapore's foreign reserve investment firm GIC, and Canadian pension funds manager OPTrust. It was launched earlier this year with $800 million in equity, planning to spend the money on six major facilities – in Texas, Arizona, Nevada and another three previously unspecified locations.
Now, it has revealed that, unsurprisingly, one of these locations is Northern Virginia – the largest data center market in the world. EdgeCore plans to offer wholesale colocation services in Sterling with "low-latency access to key cloud hubs."
The consortium is aiming for a maximum power capacity ranging between 100MW and 200MW at each of its sites.
"We are pleased to be on track in executing against our plan," said Tom Ray, chairman and CEO of EdgeCore. "We will continue to work hard to deliver upon the breadth and depth of scale, along with just-in-time delivery capabilities, our customers require.
"Our entry into Northern Virginia represents our fourth market over the past six months and we remain focused upon entering additional markets over the next year. We continue to be grateful for the trust of our customers, the work of our leadership team, and the support of our investors as we execute in our role as a preeminent developer, owner, and operator of wholesale data center capacity across the US."
Northern Virginia became the largest metropolitan colocation market in the world in the final quarter of 2016, fueled by the rapidly developing hub of Ashburn. As part of the Washington DC metro, it is likely to remain so in the future – colocation revenues in the region grew 20 percent in 2017, according to Synergy.