AWS is to start building work on its second data center campus in Hilliard, Ohio, in the coming months.
Hilliard Economic Development Director David Meadows told BizJournal that Amazon is expected to begin construction on its second data center campus in the city – located to the west of Columbus – 'by the end of the year.'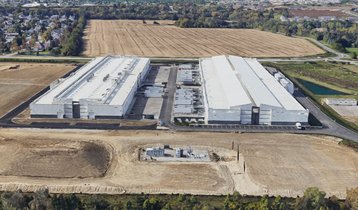 Last October, AWS was reportedly close to buying 104 acres in the city for a new $200 million data center campus.
The site, between Cosgray and Leppert roads, was assembled via two land deals: one with the city for $11.76 million, and one with the Hilliard City School District for $2.8 million.
AWS opened its first Ohio Cloud region in 2016. Located at 5109 Hayden Run, the cloud company's first Hilliard facility began construction in 2015; construction started on its third building in November 2019.
The company is also developing another Ohio campus on the other side of Columbus in New Albany. Last year the company was also reportedly scouting Ohio's Union County to the northwest of Columbus for suitable campus sites for a new $200 million development.
Google also has a presence in Ohio's New Albany, and recently announced a large-scale expansion project there. Facebook also operates a $1bn data center in New Albany.
More in Cloud & Hyperscale
More in Construction & Site Selection