AT&T is using Google's Stadia cloud gaming service to offer a browser-based version of Batman: Arkham Knight to its wireless customers.
The trial service makes no mention of the Stadia branding - with Google's entry into consumer game streaming mostly considered a failure.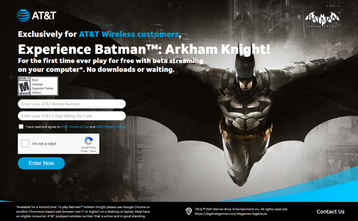 After a big launch in 2019 and promises of games that were only possible with the power of a data center, Stadia has limped along with little fanfare. The service had few games, and even fewer exclusives.
Its pricing model proved offputting, and the project appeared to receive little support from Google - only coming to Android and Google TV after a year and a half.
Earlier this year, just days after Stadia's head told Google's game developers that they were making "great progress," the company fired them and closed the studio. The company does not appear to be developing any games for Stadia.
But while the consumer-facing aspect of Stadia was botched, those with high Internet speeds located in the right regions reported that the platform itself worked well.
Now, it appears that Google could be looking to repackage its Stadia technology as a white-label service that other companies like AT&T can use to distribute games.
"This is being powered by the Stadia technology," AT&T confirmed. "For this demo AT&T created a front end experience to enable gamers to play Batman: Arkham Knight directly from their own website and the game is playable on virtually any computer or laptop."
Arkham Knight was published back in 2015 by Warner Bros. Interactive Entertainment, part of WarnerMedia. That entertainment giant is currently owned by AT&T, but the telecoms firm is in the midst of spinning it off and merging it with Discovery, Inc.
The Batman game is not available on the consumer version of Stadia.