American Tower's CoreSite acquisition was driven by the company's view on the importance of interconnection capabilities, cloud on-ramps, and the future network relationships between the cloud, Edge, and mobile.
American Tower, a Real Estate Investment Trust (REIT) traditionally focused on owning cell towers, acquired CoreSite for $10.1 billion in November 2021. CoreSite operates around 25 data centers across the US.
"Make no mistake about it, the American Tower is a tower company," said American Tower CFO Rodney Smith while speaking at Deutsche Bank's 30th Annual Media, Internet, and Telecom Conference, saying that changes around networks and particularly in 5G networks was the key to buying the CoreSite business.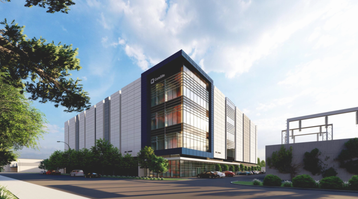 "We see CoreSite as a very unique, high-quality set of assets. These are network-centric, highly interconnected. Each one of the facilities that we acquired through CoreSite has cloud on-ramps within them," he said. "So this set of assets is not your old-fashioned data center, where people are watching over, babysitting servers and air-conditioned space. These are full interconnection facilities, network-dense facilities with cloud on-ramps."
When asked why American Tower decided to buy rather than partner with CoreSite, Smith cited the added control and flexibility an acquisition could provide.
"Owning that asset gives us full optionality in terms of what we could do with it going forward. It gives us direct ownership and direct customer relationships with the cloud players, all the cloud players that are in these organizations, and it gives us full control of these highly interconnected facilities."
On CoreSite's expansion plans, Smith said the company will be 'disciplined" and will be able to grow the company through reinvesting CoreSite's own cash flow. He noted that the company isn't looking to take its data center business international "right away" but could expand once it has established an ecosystem around the Edge in the US and found a model that really works.
"CoreSite typically would invest about $150 million on average every year in building out additional capacity," he said. "Our outlook for 2022 is going to be about $300 million of capital, and it does include building out some additional capacity in a few buildings but also a new ground-up development potentially out in California in the Silicon Valley area."
"We're not looking to build a data center business that competes with some of the other large US data center businesses. We want to have a very unique high-quality set of select assets across the US and use that to drive the networking facilities of the future."
"You're not going to see us expanding into data center businesses around the globe right away. We're going to be cautious. We'll be focused on the Edge. We'll be focused on driving organic growth in CoreSite and expanding where it makes sense to continue that economic growth."
Smith said as companies push more data to the cloud, cloud on-ramps will need to become much more diverse and spread out towards the Edge – up to and including cell towers.
"We expect to see many more cloud on-ramps around the country," he said. "[Cell towers] are perfect locations to site these new cloud on-ramps and have network compute power there as well."
"When we think of the evolution to mobile Edge, that network development... will likely require some tower and tower space. The wireless carriers will join those facilities to reduce their latency. I think they will want those cloud on-ramps and compute power close to where their base radios are, which are all at tower sites today."
"These smaller, lower power, anywhere from 500-kilowatt to 1MW to maybe 2MW facilities that would be spread around the US. That really will be our focus and driving those onto the tower site is key for us as well."
CoreSite was founded in 2001 as CRG West at two of the West coast's original carrier hotels: Market Post Tower and One Wilshire. Originally a portfolio company of The Carlyle Group, it became a public company in 2010.
Prior to acquiring CoreSite, American Tower entered the data center colocation business after acquiring Colo Atl in 2019 and renaming its presence at the 55 Marietta Street carrier hotel in downtown Atlanta, Georgia, to Metro Data Center. It then expanded at 55 Marietta and acquired Cyber Wurx, taking its space in the facility in May. Last month the company acquired colo provider DataSite, taking over another two data centers in Atlanta and Orlando, Florida, totaling more than 200,000 sq ft.
The company also operates a number of small Edge colocation sites in Pittsburgh, Pennsylvania; Jacksonville, Florida; Atlanta, Georgia; Austin, Texas; and Denver and Boulder, Colorado.