Amazon has paused plans to develop a 1 million sq ft (92,900 sqm) data center campus in Manassas, in Virginia's Prince William County.
First filed last year, Amazon had been seeking a special-use permit to construct a data center campus outside of the county's Data Center Opportunity Zone overlay district, which ends close to the site's southwest corner.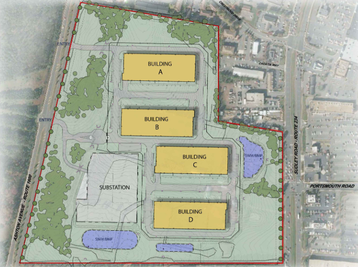 InsideNoVA reports that the Planning Commission was scheduled to hear three linked applications from Amazon Data Services around the project during its meeting on November 30, but the application has been 'tabled indefinitely' at the company's request. County staff had recommended the denial of the project.
Set across three joining plots, the 80-acre property sits between Ashton Avenue and Sudley Road and next to Manassas mall in Prince William County. The company had been aiming to build four two-story data centers and a substation on the site. Each building would have a total floor space of 256,500 sq ft (23,800 sqm).
According to InsideNoVA, Amazon is under contract to buy the undeveloped land, valued at $6.35 million, from the estate of Lewis Percival Ashby Jr. Claude Compton and Bankhead Thornton Davies are executors of the estate.
County staff opposed the project primarily because they say it's not compatible with neighboring residential and commercial properties. Staff said the application didn't provide "reasonable assurances" of noise mitigation; didn't take rooftop mechanical equipment into account when calculating the proposed building height; failed to feature adequate screening; and lacked detail around power lines since no existing ones cross the property.
While AWS is planning a 2.2 million sq ft (204,400 sqm) campus on about 117 acres at 5845 and 5945 Wellington Road in Prince William County's Gainesville, it recently saw an application for a 220,000-square-foot (20,400 sqm), single-story data center in Fauquier County's Warrenton 'indefinitely postponed' by county officials.