Amazon founder Jeff Bezos plans to step down from his role as CEO of the e-commerce, cloud, and surveillance giant.
Bezos, 57, will become the company's executive chair in Q3 2021. The top job will be taken over by Andy Jassy, currently the CEO of Amazon Web Services, the company's cloud division - and the largest cloud company in the world.
Bezos to spend more time with his money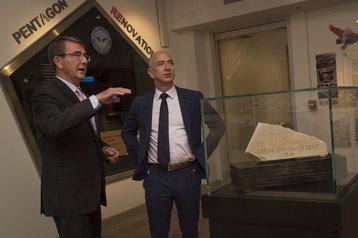 "Being the CEO of Amazon is a deep responsibility, and it's consuming. When you have a responsibility like that, it's hard to put attention on anything else," Bezos said in a letter to Amazon staff.
"As Exec Chair I will stay engaged in important Amazon initiatives but also have the time and energy I need to focus on the Day 1 Fund, the Bezos Earth Fund, Blue Origin, The Washington Post, and my other passions.
"I've never had more energy, and this isn't about retiring. I'm super passionate about the impact I think these organizations can have."
Since founding the company as an online bookshop in 1994, Bezos has led the company to unprecedented heights. Worth nearly $1.7 trillion, the company recorded $125.6bn in sales for the last three months of 2020 across its sprawling empire of e-commerce, retail, cloud, movies, music, audiobooks, and more.
Its cloud division was a happy accident - the company invested heavily in its own data center infrastructure to support its growing business, and soon realized that more money was to be made in selling cloud services.
Under the leadership of Andy Jassy since its launch in 2006, it quickly grew to dominate the cloud market, providing services to Netflix, the CIA, and an astonishingly large portion of the Internet. It also helped prop up the e-commerce division in its early years, when it sold products at a loss to gain market share.
In the last quarter alone, AWS accounted for 10 percent of the company's sales and 52 percent of its profit.
Jassy has long been seen as heir apparent for Amazon, vying with e-commerce boss Jeff Wilke - but Wilke announced he would retire last year.
The AWS head will take over a company that has grown to new heights, with its largest quarter to date. But warehouse workers have increasingly begun to work together to demand better treatment, while AWS has come under scrutiny for its work with ICE, oil giants, and other unscrupulous enterprises. Others have questioned the company's surveillance ties to police forces around the world.
Late last year, Congress questioned Bezos and other tech CEOs over potential monopoly abuse. The Amazon exec proved cagey over questions regarding the company's access to data, and did not provide detailed responses to allegations that the company abused its position. Some US politicians have called for big tech to be broken up, but it is believed that the Biden administration is considering Renata Hesse for the top antitrust job at the US Department of Justice. Hesse advised Amazon on its acquisition of Whole Foods, and separately advised Alphabet's Google.
Amazon's stock price did not change drastically following Bezos' announcement.