Amazon's AWS cloud business now has its own CEO, while the head of the company has promised the division will do $10 billion of business this year. 
In his annual letter to investors, Amazon CEO Jeff Bezos said that Amazon Web Services (AWS) is close to doing $10 billion of business a year, and is expected to break that barrier in 2016. Meanwhile, the company has bestowed a new title on Andy Jassy, the vice president who has led AWS since its launch in 2006: he is now CEO of the cloud business.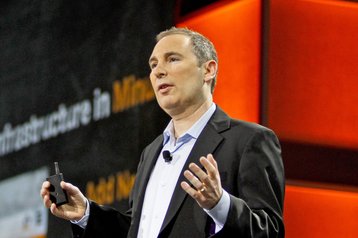 Cloud expansion
Amazon as a whole is "the fastest company ever to reach $100 billion in annual sales", Bezos says, having made $107 billion in 2015. AWS is on an even faster growth track: The cloud division has a million customers and had revenue of $7.9 billion in 2015.
As the last quarter's revenue was $2.4 billion, Bezos predicts the cloud business will go past $2.5 billion per quarter this year, and make more than $10 billion of revenue in the year. 
AWS launched in 2006, with storage and compute services, and has expanded since, now covering 12 regions, with another five regions to come online this year. 
Bezos defended Amazon's corporate culture, which has been criticized in the press, saying that the company's strength is based on its readiness to take risks.
"One area where I think we are especially distinctive is failure," says Bezos. "I believe we are the best place in the world to fail (we have plenty of practice!), and failure and invention are inseparable twins. To invent you have to experiment, and if you know in advance that it's going to work, it's not an experiment."
AWS is massively ahead of rivals. Microsoft Azure and Google Cloud Platform are expanding in an effort to catch up, but the Amazon division is reckoned to be many times larger than the combined size of all its leading rivals.  All this,Bezos says, quoting his first ever letter to shareholders in 1997, is due to basing the company's strategy on "long-term market leadership considerations rather than short-term profitability considerations."