Aligned Data Centers, Stream Data Centers, and Nexstar Media Group are all planning data center center campuses in the Elk Grove area of Chicago, Illinois.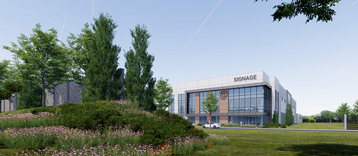 Aligned is reportedly planning to demolish three office buildings along Northwest Point Boulevard that it acquired this year for a five-building campus.
Stream has put in a request for permission to demolish a number of residential properties in order to build a three-building campus around a mile away from its existing facilities in the city.
Media company Nexstar is planning to develop a three-building campus on a radio transmitter site, in partnership with an as-yet-unnamed operator.
Aligned plans five-building campus
The Journal-Topic reports Aligned has submitted plans to the village for a five-building data center campus in the new Elk Grove Innovation Park located on Northwest Point Boulevard. Further details of the campus aren't yet available.
Village trustees approved a measure to send the proposed campus project to village plan commissioners to schedule a public hearing, which is yet to be put on the calendar.
An Aligned spokesperson said they expected to be able to release more detailed information about the Elk Grove Village project in the future.
Aligned acquired 50 Northwest Point Boulevard in Elk Grove Village in March from Franklin Street Properties for $29 million. The five-story, 177,000-square-foot (16,450 sqm) office building, was built around 2000 and sits on 10 acres. Citicorp has been a major tenant in the building since 2006.
Last month the Real Deal reported Aligned also bought two other office buildings on the same street – 101 and 141 Northwest Point Boulevard in Elk Grove Village – in two separate deals last month totaling $35 million.
An LLC managed by Brennan Investment Group chairman Michael Brennan was the seller of 101 Northwest Point Boulevard, according to Cook County public records. Sat on 7.5 acres, the two-story property is a 50,000 sq ft office building built in the 1980s.
Sat on 7.8 acres, 141 Northwest Point Boulevard is a three-story, 115,000-square-foot office building that was previously the headquarters for the American Academy of Pediatrics. The organization sold the building to Silver Oak Ventures LLC in 2017.
Aligned currently operates an 18.5-acre Chicago campus south of O'Hare Airport in the Northlake area of Illinois. It broke ground on the first building in April 2021 and began work on the second the following April. ORD-01 offers 220,000 square feet (20,450 sqm) of space and 48MW of capacity (expandable to 60MW). ORD-02 will offer around 300,000 sq ft (27,900 sqm) and 40MW of capacity.
Stream proposes three-building campus
Data center developer and operator Stream is also looking to demolish around 57 Elk Grove residential properties to develop a data center campus.
Stream Data Centers has petitioned Elk Grove Village for annexation and re-subdivision of 700-905 Roppolo Drive, 802-901 Richard Lane, 2110 Landmeier Road, and 701-913 Dierking Terrace to develop a three-building data center campus with an on-site substation.
The Daily Herald reports the company is set to close deals to buy all the properties in August. The publication said multiple companies have previously tried to buy the homes, which date back to the 1950s.
Stream currently owns two data centers in the Elk Grove area of Chicago. Chicago I, located at 2080 Lunt Avenue, is a 126,689 sq ft data center offering 15MW. Stream acquired the property in December 2017. After reconstruction, the facility was fully leased to a 'major cloud customer' in 2020.
Chicago II, located on a 10-acre site at 1925 Busse Road, offers 32MW across 226,000 sq ft. Both existing facilities are located around a mile south of the new proposed development.
Nexstar plans three-building campus on radio tower site
The Daily Herald and Journal-Topic both reported that on June 5 the Village has granted preliminary approval for a new data center campus at a WGN radio transmitter site.
TV and radio company Nexstar Media Group, owner of the 50,000-watt AM station, plans to develop 35 acres on the south end of the transmitter site in partnership with an unidentified developer.
IL_720 Rohlwing Rd. LLC is filing to rezone 720 Rohlwing Road from R-2 (single residential) to O-T (Office Transitional) and gain a special use permit to construct two new radio towers to replace two existing 750 ft towers and construct three data center structures and a substation.
The company aims to develop three data center buildings: two two-story facilities – one spanning 334,000 sq ft and another 339,000 sq ft – across four data halls each, and a two-story building spanning 169,000 sq ft over two data halls.
Construction of the first building is set to begin later this year. It's unclear who the end customer is.
The company is also requesting to develop six pickleball courts, which will be operated for public use by the Elk Grove Park District.
Media company Nexstar took over the radio tower site in 2019 when it bought WGN, a commercial AM radio station in Chicago, for $4.1 billion. The site also includes a backup studio.
The company sold around 35 acres of the land last year for an undisclosed amount, retaining 65 acres.
Elk Grove is a major data center market within the Chicago area. The likes of Prime, T5, EdgeConneX, Skybox, CloudHQ, Microsoft, Stream, Digital Realty, and others all have a presence in and around Elk Grove.
More in Construction & Site Selection