DuPont Fabros Technology (DFT), the owner and operator of large, multi-tenant data centers, has copened a second facility in Chicago.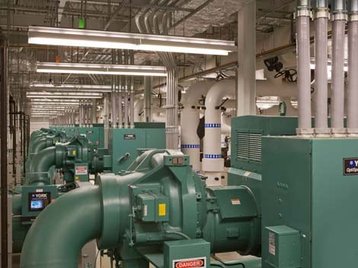 Located on 15 acres of land in the Elk Grove Village area, the data center - called CH2 - already offers 7.1 megawatts of capacity across five data halls, which total almost 45,000 square feet.
Once CH2 has been fully realised, it will offer 336,000 square feet of space and have a critical load capacity of 25.6 megawatts. The new facility has been planned using the same design principles as DFT's Ashburn, Virginia-based ACC7 data center opened in 2014.
Ambitious plans
CH2 will provide clients with a variety of cabinet layouts and power densities across eighteen data halls. It will come equipped with a chiller-assisted cooling system and an 'isolated-parallel' uninteruptible power supply (UPS) topology.
Each base computer room is planned at 9,000 square feet and expected to deliver flexible power between 1 and 2 megawatts. DFT claims that CH2 will produce an annualized Power Usage Effectiveness (PUE) of 1.15.
This sets the stage for a successful future

Chris Eldredge, president and CEO of DFT
Chris Eldredge, president and CEO of DFT said: "There are many reasons for us to expand our presence in Chicago, including customer demand, Cook County's competitive power rates, enhanced accessibility to O'Hare International Airport and Chicago's reputation as one of the country's leading telecommunications infrastructure cities. We believe the combination of these factors, along with our relentless focus on performance and unequaled reliability, played a direct role in the execution of our first lease in this facility. It sets the stage for a successful future."