Cooling specialist Airedale by Modine has begun production at a new US chiller plant in Virginia, with an order from Corscale.
The UK-based company opened a factory in Rockbridge, Virginia in June, and now has a "significant" order from Corscale, a recently formed firm building a 300MW campus in Gainesville Virginia. Airedale expects more orders from Corscale in the next few months.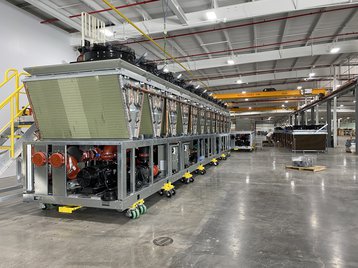 UK-based Airedale is owned by US-based thermal management technology firm Modine Manufacturing Company.
US expansion
Corscale was formed in 2021 as the data center arm of real estate company Patrinely Group, and has signed for a specialized data center chiller adapted from Airedale's existing OptiChill range.
The Corscale chiller system uses free cooling with a low-velocity "fan wall" approach that moves large volumes of air slowly through the server racks, an approach specially suited to hyperscale settings. The Airedale system gives performance while operating at higher water temperatures and fluid temperature differentials than traditional offerings, says Airedale.
Airedale has effectively developed a US version of the chiller, updated to meet North American safety standards, using American materials and components. The task was done by Airedale engineering specialists in Rockbridge, working with colleagues at Airedale's headquarters in Leeds, UK.
Before the products begin shipping, Airedale will invite Corscale to a "witness test" in laboratories at its Rockbridge plant. The tests will put the units through their paces under various operating conditions and heat loads, to simulate their eventual working environment.
The center at Rockbridge can test air conditioning equipment up to 2.2MW (expanding to 5MW in the future for water-cooled chillers), with a climate temperature that can be set anywhere from 15°C / 59°F to 52°C / 126°F.
The chiller operates using twin screw compressors and has a number of special features, included to enhance efficiency and performance, including high water temperatures. It also has improved controls including fast start, input power limiting and intelligent management of compressors, refrigerants and pumps.
The onboard pump has a variable speed to match cooling demand so less energy is wasted in over-cooling. There is a contained glycol loop, so the economizer is isolated from the cooling loop and the AireWall units operate more efficiently.
The contract will secure a healthy pipeline for Airedale's products, which include OptiChill free-cooling chillers, AireWall fan walls and SmartCool One computer room air handling (CRAH) units, said Airedale VP Jonas Caino.
"We are delighted to announce our order with Corscale, as we start full-scale production at our first-class facilities in Virginia, the largest data center market in the world," said Caino, describing Corscale's Gainesville project as "fantastic."
"This order is just the start for our Rockbridge facility, and I am excited to see what the next few years holds," said Caino.
Corscale said it is focused on sustainability, and picked Corscale for its "history of ground-breaking, free-cooling technology paired with its in-depth knowledge and understanding of the data center industry".
Nic Bustamante, SVP development from Corscale, said: "Airedale products are renowned for their innovative approach and commitment to efficiency, which in turn reduces wastage, and we were impressed by the work they have done across the world with other data centers."