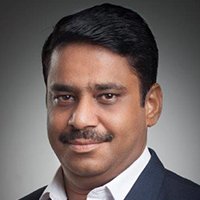 Mukesh Mehta
Group CTO-CISO
,
Monarch Network Capital Ltd
(Honorary Doctoral, MBA (Information Technology) & CISA/ITIL/PMP Certified) is an Entrepreneurial Mindset Strategic technology executive who drives forward technology concepts and policies to ensure increased competitiveness and profitability of the organization. A skilled communicator, also known for revolutionary experimentation & ground breaking projects in HCI. He has consistently delivered Award winning projects and works effectively across multiple business units and technical disciplines to forge critical consensus. A career spanning over 24 years, Mukesh has successfully progressed up in the ranks from IT-EDP Manager to CIO of country's large Brokerage House, tapped to modernize and turn around Technology function, have lead 200+ professionals who relied on extremely dated technologies/practices
Decisive professional who analyses all available data to make rapid, effective tactical and strategic choices. He holds an impressive track record of surpassing ambitious business goals, controlling cost and improving accountability while building an accountable team for large projects. Consistent in providing deliverables on time and within budgets. Motivational team builder who directs large cross-functional teams, He's a dedicated firefighter who effectively balances troubleshooting with strategic planning.