Russian search platform Yandex has signed up for wind power at its Mäntsälä data center in Finland.
The company has signed a five-year power purchase agreement (PPA) with Finland's Ilmatar Energy for energy from wind farms. From January 1, 2022, it will provide enough energy to power the Mäntsälä data center. The agreement is the headline news from the company's first Sustainability Report, published this week.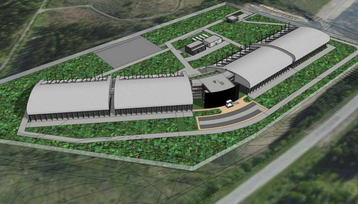 It's tough to be green in Russia
Yandex is Russia's largest tech company, best known for its search engine, which is the fifth-largest worldwide. It offers other Internet services including a ride-hailing app, and is also registered in the Netherlands. In its sustainability report, the company said it has five data centers: four in Russia (Vladimir, Sasovo, Ivanteevka, and Mytishchi) and one in Finland (Mäntsälä).
The deal with Ilmatar Energy will cover the energy use of the Finnish facility - which already has impressive green credentials, with a reported PUE of 1.14 which is impressively low for a data center built in 2014. The Mäntsälä site also exports heat to a district heating system, contributing some 20,000 MWh in 2020, according to the Sustainability Report.
Yandex says the deal means that "close to 20 percent of the total electricity consumption by Yandex data centers globally will be matched with the procurement of clean energy from regional sources," and says it is committed to "continue opting for greener energy sources, where possible."
However, its opportunity to do that is apparently limited in Russia. A footnote reveals that "Yandex purchases electricity from Rosseti for its own operations in Russia. Rosseti is a state-owned distribution company that determines its energy production mix in advance and does not give buyers control over the mix of renewable and non-renewable energy sources. The mix of purchased electricity varies by region to reflect regional hydroelectric (renewable) and nuclear power capabilities."
Overall, the report says half (52 percent) of its carbon footprint comes from electricity, and 90 percent of that comes from data centers. The average PUE of those data centers is 1.25, however, and total electricity consumed at those data centers is some 385,000 MWh, or about 40 times the amount of heat it manages to recover in Finland.