Google has announced a new tool showing the average mix of renewable energy to its data centers, and wants customers to make more sustainable choices around where data and applications are hosted.
The search giant has previously announced plans to only carbon-free energy 24/7 across the entire company by 2030. As part of Google's efforts to reach this goal, the company measures the mix of carbon-free energy vs fossil-based energy at each of its cloud regions.
Google is now releasing this Carbon Free Energy Percentage (CFE%) tool and sharing the average hourly CFE% for most of its Google Cloud regions. The information is available on the company's site and on GitHub.
The CFE% will list how often that region was supplied with carbon-free energy on an hourly basis, on average. All of Google's regions are matched with 100 percent carbon-free energy on an annual basis, but the CFE% will show how well matched the carbon-free energy supply is with its demand. A lower-scoring region has more hours in the year without a matching, local amount of carbon-free energy.
Read DCD's new Sustainability Supplement for more on how data centers can help fight climate change
Google wants customers to make sustainable hosting choices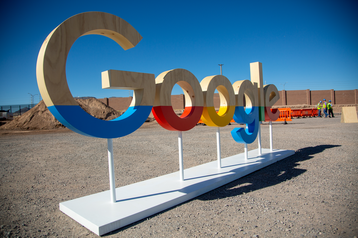 Google says that through the new CFE tool, companies can maximize the amount of carbon-free energy that supplies their application and workloads, and help reduce the gross carbon emissions from running those resources.
Companies can take advantage of locations with a higher percentage of carbon-free energy and pick lower-carbon regions for new applications or batch jobs, or restrict the location of new cloud resources to a particular region or subset of regions using organizational policies to ensure company-wide adherence to sustainability policies.
Salesforce is one company that has already integrated environmental impact into their IT strategy as they work to decarbonize the services they provide to their customers.
"At Salesforce we believe we must harness the power of innovation and technology across the customer relationship to address the challenge of climate change," says Patrick Flynn, VP of Sustainability at Salesforce. "With Google's new Carbon Free Energy Percentage, Salesforce can prioritize locations that maximize carbon-free energy, reducing our footprint as we continue to deliver all our customers a carbon neutral cloud every day."
"We're sharing this data so you – like Salesforce – can incorporate carbon emissions into decisions on where to locate your services across our infrastructure," says the blog announcing the data. "Just like the potential differences in a region's price or latency, there are differences in the carbon emissions associated with the production of electricity that is sourced in each Google Cloud region."
Oregon, Brazil, and Finland mix well, Singapore & Las Vegas not so much
The hourly grid mix and carbon intensity data used to calculate these metrics is from Tomorrow's electricity Map. Oregon, Iowa, Sao Paulo, and Finland are the facilities with the highest CFE% scores, averaging above 70 percent and showing a high level of renewable energy use. Las Vegas, South Caroline, Taiwan, and Sydney fare lowly, all scoring sub-20 percent. Its Singapore region is the only one in single digits.
Google doesn't currently have hourly measurements for its facilitates in Hong Kong, Japan, Jakarta, Zurich, or Montreal, which are some of its most carbon-intense facilities according to its own measurements.