German TV streaming service Zattoo has announced plans to relocate its data inside a wind turbine.
Zattoo is partnering with German wind turbine operator WestfalenWind to test whether it would be able to offer a consistent streaming service from directly inside a wind turbine as part of the latter's WindCores initiative in Paderborn, western Germany.
"The idea of bringing computing capacity closer to clean energy generation and thereby tapping unused space is so simple and obvious, and from our point of view a project that will hopefully catch on. We want to consistently become a sustainable company and encourage others to join in," says Stefan Lietsch, chief technology officer at Zattoo.
Register now for DCD's global summit on data center sustainability Towards Net-Zero
Bringing data centers to the wind power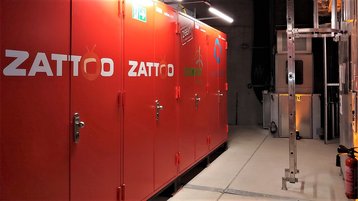 Zattoo claims to be one of the largest TV streaming providers in Europe, providing over 80 million hours of video content per month to three million users across Germany, Austria, and Switzerland. The company says this equates to over five million gigabytes of data and one million Kilowatt-hours of electricity per year.
Rather than send energy from the turbine to a facility or buy energy credits, the streaming service is relocating its servers inside the wind turbine itself. The company started moving its servers to the WestfalenWIND wind turbine at the end of 2020 as part of an initial test phase. The company has started delivering content via the turbine data center, and if the expectations of the current test phase are met, Zattoo plans to make the wind turbine its main data center location.
While wind is becoming an increasingly popular method for data centers to meet their carbon neutral goals, rarely are they so directly connected to the data center. First announced in 2018, WestfalenWind's WindCores project was developed alongside the University of Paderborn.
Each wind turbine is 13-meters wide and 150-meters high, and fit four fire-resistant IT safety cabinets, housing 62U server racks. While the vast majority of the power comes from the turbines themselves, the facility is connected to independent electricity providers to ensure redundancy and continued operation during periods of low wind (or extremely high winds, when turbines are shut down).
"With WindCores, the wind turbines will be put to further sustainable use. In this way, we can bring the increasing energy demand due to increasing digitalization in line with the energy transition," says Fiete Dubberke, managing director IT at WestfalenWIND.