Re-using the waste heat from data centers gives more benefits than refining PUE (power usage effectiveness), according to the manager of Yandex's data center in Mäntsälä, Finland.
The highly efficient data center has a number of extremely interesting features and is not bound by data center conventions, according to a presentation by the Russian search giant's Finnish data center manager, Ari Kurvi, at DatacenterDynamics' DCD at CeBIT event in Hannover, Germany.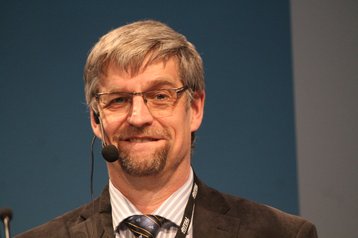 Pooh-poohing PUE?
With PUE figures getting closer to 1.0, the measure has diminishing returns for data center builders, Kurvi said: "If you make a one percent improvement in PUE, the total effect is small."
By contrast, re-using the waste heat from the data center is "better than a win-win situation," he said: "It is a jackpot!"
The Mäntsälä building has a very efficient outdoor-air cooling system, in which the whole building is designed with an  aerodynamic cross-section, using the prevailing wind to create the right pressure at the air intakes and assist circulation.
When the air exits the data center, heat exchangers remove heat energy which is then sold to the local energy firm for use in its district heating system. The air exhaust is at 37C, around 20C hotter than the input air, which doesn't sound hot enough to be useful. But this temperature difference can be augmented with a heat pump so the district heating system gets water at 85C, Kurvi said.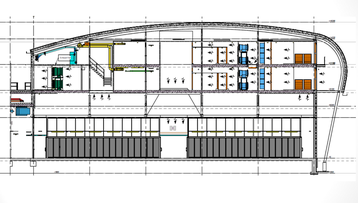 All this happens outside the data center, Kurvi told DatacenterDynamics, with no impact on the operation of the data center itself. At the moment, in Phase 1 of the site, the data center is running 6MW of IT load, and selling around 3.6MW of heat, or around 20GWh per year. The reduces the site's carbon footprint by 40 percent, said Kurvi.  
Ironically, pumping the hot air to the heat exchangers does require a small amount of extra power for the buidings fans. This could increase the PUE by a tiny fraction, said Kurvi - but this effect is vastly outweighed by the benefits of reusing the waste heat.
It is possible that water cooling might give a more concentrated and marketable form of heat, but this would change the data center more radically than Kurvi would like, If the system is changed at all, he said, Yandex might move the heat exchangers closer to the servers, where they can collect heat from air at 45C. 
The biggest advantage Yandex has in Finland is the existence of district heating systems, he conceded. Every town in the country has one, so there is always a ready market for waste heat - in Yandex' case, only 200m from the data center.