Yandex is to build a new 63MW data center in Kaluga Oblast in western Russia.
The new facility is to be located in the Grabtsevo industrial park in Kaluga, around 100 miles south of Moscow.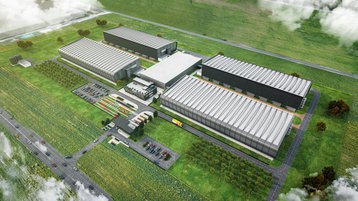 The company said the new data center will span 130,000 square meters and have 63MW of capacity; it will be able to house more than 3,800 server racks with a load of 15 kW each. Renderings show four data hall buildings connected with a central building.
Yandex said it will be the company's largest data center and operate at a PUE of 1.07-1.09. The site is scheduled to open in the second half of 2023.
The new facility will serve both the internal infrastructure of Yandex services and the cloud platform.
"The actual uptime rates of the data centers used by Yandex Cloud have not dropped below 99.9996% over the past three years. Now we have a new, fourth availability zone, which supports all the highest reliability standards of Yandex data centers. It will not only ensure the smooth operation of our customers, but will also become a platform for their long-term growth," said Alexey Bashkeev, Yandex Cloud CEO.
Yandex currently operates four data centers in Russia (Vladimir, Sasovo, Ivanteevka, and Mytishchi) and one in Finland (Mäntsälä).
The 40MW facility in Finland has this year been forced to rely on its backup generators after it was cut-off from the local energy grid in the wake of a power agreement being terminated. There haven't been any further updates to the status of the facility.
Yandex has yet to be sanctioned by the EU and US, however, two of its executives have been sanctioned, and Yandex has announced it is to sell its media businesses to the Russian social media player VK to head off potential sanctions.
More in Construction & Site Selection