Yandex's Finland data center is still running on diesel after a week. Its former electricity supplier Nivos has said that it was cut off because it has no energy contract, after a third party cancelled power.
The 40MW facility in Mäntsälä, Finland, was cut off on 25 April because Yandex's electricity contract had run out, according to local news services. The data center appears to be running at reduced capacity on its diesel generators and is putting little or no heat into the district heating system, which is now being fed using light fuel oil and natural gas, according to Nivos.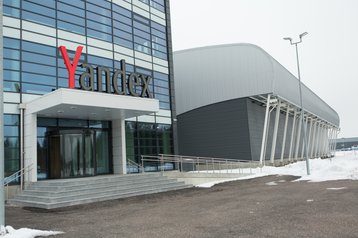 Yandex is reported to be changing the name of its Finnish operation, and removed the logo from the data center in 2021
Heating choice: Russian data or Russian gas?
"Despite Yandex not being under sanctions, our data center has been indeed cut off from the power grid," said a statement from the Russian company. "The data center is temporarily running on its own diesel generators to maintain operations; however, the heat reuse system will operate at full capacity only once we switch back to the power grid."
Mäntsälä bought energy from Nivos Energia, via another Nivos subsidiary, Nivos Verkot Oy (Nivos Network), but its contract expired at the start of 2021 according to Finnish news services YLE and Ilta Sanomat (Evening News).
Yandex had moved away from Nivos Energia, signing a five-year power purchase agreement (PPA) for wind energy with Finnish renewable energy company Ilmatar Energy, which would be delivered by Nivost Verkot.
At the start of 2022, Ilmatar cancelled the deal, says Yandex: "They have decided to unilaterally terminate our contract based on the formal grounds of the agreement, though we've made every effort to negotiate contract terms including more favourable rates, as well as provide proof of our stable and continuous operations."
In response to a query from DCD, Ilmatar confirmed this: "We have terminated the electricity delivery agreement to Yandex Datacenter in Mäntsälä Finland. We do not comment any further of the contractual issues between us and Yandex."
As Ahl explained to other news sources, Verkot is a network not a seller, so when Ilmatar pulled their virtual plug, Nivos Verkot had to cut the physical connection. Yandex has so far failed to get a new contract from Ilmatar, Nivos Energia or any other supplier. Verkot had no choice but to cut the data center off, under Finland's Electricity Market Act, Nivos CEO Marko Ahl explained.
"If they find a new electricity seller, the grid connection will be restored," said Ahl, according to Ilta Sanomat. Yandex has said it is negotiating a new contract with a supplier.
DCD has asked both Yandex and Nivos for more details, including whether a new contract with Nivos Energia might be considered.
Ilta Sanomat reports the data center is operating at about one-fifth of its normal 40MW capacity. This means that the amount of heat provided to Mäntsälä is greatly reduced. The shortfall is being made up with natural gas (presumably from Russia) and some light fuel. The light fuel comes from Neste, a Finnish supplier which makes sustainable fuel oil from recycled fats - but YLE points out that 15 percent of Neste's fuel comes from Russia.
Nivos apparently began preparing for trouble last year as tensions increased. The city started work on a new wood pellet incineration plant to generate heat for the district heating system - and accelerated the plan when war broke out. The plant is expected to come on stream at the end of 2022 according to YLE, and will generate enough heat for the summer months, but will need to be supplemented in winter. The pellets will come from Finland, Sweden, and Canada - not from Russia.
The Yandex statement makes much of the environmental impact of the interruption of heat supplies, and the reduction of activity at the data center: "We regret this situation which is a major setback to green initiatives in the country as it paves a way for more consumption of fossil fuels and also a major blow to Finland's ambition of becoming a global data hub."
A second statement sent to DCD said: "We are devastated by this outcome, but we are doing everything in our power to renegotiate and find a new partner who can help us continue to do what we've been doing for seven years – providing services for our users while benefiting the local economy and community. Nothing has changed in terms of our purposes and our commitment to make our presence in Finland as profitable as possible to all parties. We are hoping to continue our operations as usual, as well as fulfill our commitments to the city, including heating up the town, after these issues are resolved."
Nivos was known as Mäntsälän Sähkö (Mäntsälän Electricity) until 2017, and supplies electricity, gas, and broadband to ten municipalities, the largest being Mäntsälä and Kärkölä. It gets around 42 percent of its energy from fossil fuels, 44 percent from nuclear power, and 13 percent from renewable sources.
[Updated to include new comments from Yandex and Ilmatar]