New company XL360 has inaugurated a new data center in Toulon, France.
The 1,600 sqm (17,200 sq ft) building offers capacity for up to 105 computer racks and will also host startups as a coworking space.
The property, located on the Boulevard du Commandant Nicolas, previously belonged to the local administrative entity, Toulon Provence Méditerranée Metropolis (TPM). The site was a former National Defense building acquired by TPM in 2014. More than €5 million ($5.2m) has been invested in the project.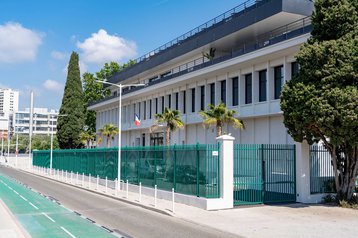 Formed in 2020, XL360 is led by Xavier Lafaure, previously CEO of French cybersecurity firm Exclusive Networks. He also leads XL Ventures and Alcatraz IT. This is the company's first data center.
"With this project to rehabilitate an existing building to make it both a data center and a business hotel dedicated to digital start-ups, we had a dual purpose: to provide the city of Toulon and its agglomeration with a powerful tool to support the economic and digital development of the territory thanks to a real "technological showcase" and to support a partnership with several local associations dedicated to the inclusion of people with disabilities," said XL360's Lafaure.
TPM and XL360 say this is the first data center in the Var department (an administrative division located in the Provence-Alpes-Côte d'Azur region of southeastern France). The facility was originally due for inauguration in January 2022 but delayed; however the first data center customers have already set up in the building.
The inauguration ceremony was attended by officials including Hubert Falco, Maylor of Toulon; Hervé Stassinos; Mayor of Pradet; Didier Goguenheim, director of TVT Innovation; Jean Larroumets, President of the French Tech Toulon South Region.
"Today the Métropole TPM and the French company XL DataCenter are inaugurating the first data center in the Var department, XL360, a new project to support the territory's digital shift," said Mayor Falco. "The speed of access to information is the current challenge for the development of the digital economy; a local data center located in Toulon, capital of the Var, was essential."
Schneider Electric was involved with the project, including the supply of EcoStruxure IT software.
"The data center is the building block that will allow digital development. Integrating a digital business hotel and a data center meeting the latest environmental standards into the same building is a strategic approach to supporting the competitiveness and attractiveness of the local territory," said Damien Giroud, Sales Director at Schneider Electric IT.
More in Construction & Site Selection