The first parts of the LUMI supercomputer have been installed at a newly-developed CSC data center in Kajaani, Finland.
The first phase of the Large Unified Modern Infrastructure system, consisting of the CPU partition, storage systems, and an Early Access Platform for preparing applications for the GPU partition installed later this year, have been installed into the newly built data center over the summer.
The second installation phase, including the GPU partition, will happen towards the end of the year.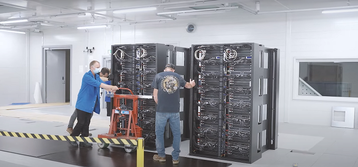 The $160m LUMI system is expected to hit 550 petaflops of FP64 precision peak performance, or 375 petaflops of Linpack performance.
The data center for LUMI, at the Renforsin Ranta business park in Kajaani, has been converted from an empty former paper mill hall. Construction work began in February 2020 and was completed in the spring.
LUMI – which also means snow in Finnish – is expected to take up around 150 sqm of space. The CSC data center has reserved 2,200 sqm of floor space for the installation and the data center is expandable up to 4,600 sqm
Run with 100 percent hydropower, the supercomputer will use warm-water cooling and its waste heat will be utilized in the district heating network in Kajaani. The supercomputer's waste heat will account for about 20 percent of the network's heating, with Loiste Lämpö constructing the connection for the project.
Funded under the European High Performance Computing (EuroHPC) joint-undertaking, the supercomputer's resources will be available to researchers across ten European countries.
The EuroHPC JU is an EU initiative designed to pool resources in order to buy and deploy supercomputers and make them available to European researchers and academics. Systems have been deployed in Bulgaria, Luxembourg, and Slovenia, while others are due in Portugal and elsewhere over the next year.
In July, the public procurement process for the 200 petaflops MareNostrum 5 supercomputer was canceled over disagreements about selecting a preferred vendor for the system. The current status or delivery date of the system is unclear, though its would-be hosts at the Barcelona Supercomputing Center (BSC) are still expecting its delivery by the end of the year.