A new renewable-powered petascale supercomputer is to be installed at the Minho Advanced Computing Center (MACC) in Guimarães, Portugal.
The new HPC system, named Deucalion, will be provided by Fujitsu and is expected to be operational by early 2022. The supercomputer will utilize the same Arm-based Fujitsu A64FX processors as the Japanese Fugaku supercomputer at the RIKEN Center for Computational Science in Kobe, and reportedly be capable of performing calculations at 10 petaflops per second.
"Deucalion has been designed to be a highly efficient state-of-the-art system excelling on traditional HPC workloads as well as on complex data analytics and machine learning," said Rui Oliveira, MACC´s Scientific Director. "Besides being a key enabling infrastructure to many science domains, with its hybrid architecture, Deucalion aims at bolstering the national advance computing competences, both in academy and industry."
For more breaking data center news, features, and opinions, be sure to subscribe to DCD's newsletter
The system will reportedly be used to 'demonstrate green computing principles' by 'leveraging a fully sustainable infrastructure.' João Pedro Matos Fernandes, the Portuguese Minister for the Environment and Climate Action, says Deucalion's entire operation will be based on renewable energy sources, either by directly producing electricity from solar and wind technologies in a self-consumption logic, or by combining it with storage systems.
European Union grows its cluster of supercomputers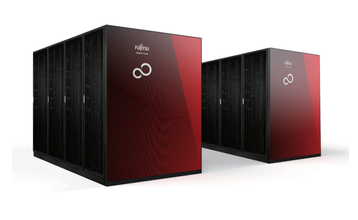 The €20 million ($24 million) project was co-funded by the Portuguese Foundation for Science and Technology, the Portuguese Innovation Support Fund, the Portuguese Energy Efficiency Fund, the European Structural Funds of the North Region of Portugal, the municipality of Guimarães, and the European High-Performance Computing Joint Undertaking (EuroHPC JU), which will contribute €6.95 million ($8.3 million) to the costs of Deucalion.
Manuel Heitor, the Portuguese Minister for Science, Technology and Higher Education, said Deucalion represents "a further step towards engaging every region in the wide European network of high-performance computing."
Opinion: Taking AI to the edge with HCI
Deucalion is the seventh supercomputer joining the EuroHPC network, an EU effort to create a supercomputing cluster in Europe. Four others supercomputers are under construction; MeluXina in Luxembourg, Vega in Slovenia, EURO_IT4I in the Czech Republic, and PetaSC in Bulgaria. LUMI at Finland's IT Center for Science, CINECA's LEONARDO machine in Italy, and MareNostrum 5 at the Barcelona Supercomputing Centre in Spain are already part of the network.
"Delighted that we have signed the Deucalion petascale supercomputer contract EuroHPC users will benefit from this latest supercomputer wherever they are in Europe," said Anders Dam Jensen, the Executive Director of the EuroHPC JU. "It will help to speed-up the diagnosis and treatment of diseases, better anticipate weather conditions or advance the frontiers of knowledge of matter. Such top-of-the-range system will also support our ambition of making Europe a global leader in HPC."
Portugal's first supercomputer was BOB, a one petaflops system donated to MACC in 2019 by the Texas Advanced Computing Center (TACC) using hardware from the first iteration of the Stampede supercomputer.