EPCC, the supercomputing center of the University of Edinburgh, will deploy a Cerebras CS-1 supercomputer for AI-based research.
The Cerebras CS-1 system uses the large Wafer Scale Engine (WSE) processor alongside an HPE Superdome Flex Server system for front-end storage and pre-processing, which combined the company says will greatly reduce training time for AI models. The first deployment of a CS-1 system in Europe will be used for natural language processing and data science research across public, private, and academic organizations.
"We are proud to announce this audacious infrastructure investment and partnership with the world leaders in AI computing," said EPCC Director Professor Mark Parsons. "This installation will enable massive breakthroughs in our vision for data science and greatly accelerate our research across genomics and public health, including time-sensitive and pressing issues such as leveraging AI across large models to advance Covid-19 therapeutic research."
Opinion: Taking AI to the edge with HCI
Cerebras' massive wafers come to Europe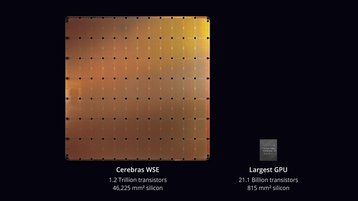 "We are excited to bring our industry-leading CS-1 AI supercomputer, coupled with HPE's advanced memory server, to EPCC and the European market to help solve some of today's most urgent problems," said Andrew Feldman, CEO and co-founder of Cerebras. "Our vision with the CS-1 was to reduce the cost of curiosity, and we look forward to the myriad experiments and world-changing solutions that will emerge from EPCC's regional data center."
The WSE is a massive single wafer processor measuring 46.2 sqcm (7.1 sq inches) which Cerebras claims is 56 times larger, has 54 times more cores, 450 times more on-chip memory, 5,788 times more memory bandwidth and 20,833 times more fabric bandwidth than the leading graphics processing unit (GPU). The HPE Flex Server on this supercomputer will reportedly be provisioned with 18TB of memory, 102TB of flash storage, 24 Intel Xeon CPUs, and 12 network interface cards to deliver 1.2 Tbps of data bandwidth to the CS-1.
"HPE has a long-standing collaboration with EPCC to develop solutions to some of the most challenging computational problems, and we are excited to be working at this time to provide a highly productive AI platform," said Mike Woodacre, HPE CTO of HPC.
"By tightly coupling a Cerebras Wafer Scale Engine with an HPE Superdome Flex Server In-Memory host, we are aiming to enable researchers to tackle complex AI workloads at unprecedented rates."
Last year the Pittsburgh Supercomputing Center announced it had chosen Cerebras and HPE for its Neocortex supercomputer.