The Pittsburgh Supercomputing Center will build the Neocortex supercomputer, featuring the Cerebras Systems Wafer Scale Engine and HPE's shared memory Superdome Flex hardware.
The system, made possible with $5m from the National Science Foundation, is expected to be available by the end of this year.
Big chips for a big system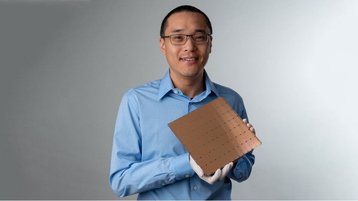 "Neocortex is a first of its kind in many ways," Paola Buitrago, principal investigator and PSC director of artificial intelligence and big data, said.
"With Neocortex, we will be closer to achieving our vision of interactive AI development by offering capabilities that are truly revolutionary. It's our privilege to offer this outstanding resource at no cost to the research community. We look forward to all the great discoveries it will enable."
The Neocortex architecture will incorporate two Cerebras CS-1 AI servers, each powered by the Cerebras Wafer Scale Engine (WSE) processor.
Cerebras WSE was unveiled last year as the world's largest chip, featuring 400,000 AI-optimized cores implemented on a 46,225 square millimeter wafer with 1.2 trillion transistors. The chip is 56.7 times larger than the largest GPU.
Each WSE will be coupled with an HPE Superdome Flex provisioned with 24 terabytes of memory, 205 terabytes of high-performance flash storage, 32 Intel Xeon CPUs, and 24 network interface cards with 1.2 terabits per second of data bandwidth to each Cerebras CS-1.
"HPE has a long-standing collaboration with PSC to develop powerful joint solutions, which includes coupling the world's first converged HPC and AI supercomputer in PSC's Bridges to deliver breakthroughs in science and medicine," Mike Woodacre, HPE CTO of HPC & MCS, at HPE said.
"We are honored to be a part of a uniquely new collaboration on Neocortex, combining next-generation HPE Superdome Flex in-memory processing with Cerebras CS-1 to enable researchers to tackle complex AI workloads at unprecedented speed."