Vantage Towers has built its first wooden structured telecommunication mast in Germany.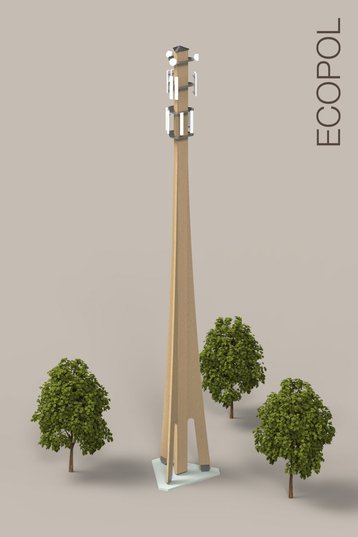 Located in Bechtolsheim, Rhineland-Palatinate, the Ecopol tower is the first of two planned wooden structures in part of a pilot project announced in October 2022. The second tower will be located in Leiwen, Germany, and is expected to be installed in Q3 of 2023.
The structure is built from recyclable wood, meaning it has a significantly lower carbon footprint compared to masts made from steel.
The tower has been installed with help from Finnish wood-constructed communication towers start-up Ecotelligent. The company offers three outdoor variations of the towers: Ecopol which is a free-standing triangle-shaped support structure between 30 and 40 meters tall, Castellum which is free-standing but square-shaped and between 10 and 27 meters tall, and Barbican, a rooftop solution between four and eight meters tall.
Kai Uebach, managing director of Vantage Towers Germany, said: "With the Ecopol tower, Bechtolsheim has chosen the future. A future in which telecommunication infrastructure is sustainable and visually appealing at the same time. We are very pleased that we have successfully realized this project, which is unique in Germany so far, together with Ecotelligent."
The development of these sustainable towers is part of Vantage's ongoing efforts to improve its sustainability. In 2021, the company began using solely renewable energy to power its infrastructure, including wind, solar, and hydropower. The company is currently piloting having on-site renewable energy production through wind turbines and solar panels, and replacing its diesel generators with hydrogen engines
Alexander Schweltzer, Minister of State in the Ministry of Labour, Social Affairs, Transformation and Digitalisation of the State of Rhineland-Palatinate, said: "Improving the quality of coverage and boosting network coverage with mobile communications are central goals of the federal state government. I am pleased that the construction of the telecommunication tower in Bechtolsheim not only advances the expansion of mobile communications in the state but also makes a contribution to a greener future."
Vantage Towers currently operates around 83,000 sites across 10 countries, including towers, masts, rooftop sites, distributed antenna systems, and small cells. Last month, Australian pension fund UniSuper bought an AU $1 billion ($676.3 million) stake in Vantage Towers, giving them a five percent indirect stake.