Vantage Data Centers has announced plans to expand into Africa.
The company this week said it had broken ground on a new 80MW campus in Johannesburg, South Africa.
The first 16MW phase of development is due to be completed by the summer of 2022.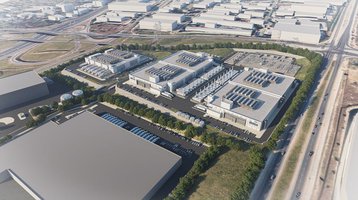 Located in Waterfall City in the Midrand area of Johannesburg, the campus will consist of three facilities across 30 acres with 650,000 square feet (60,000 square meters) of data center space once fully developed. Vantage said it was investing more than $1 billion into the site.
"Vantage has seen strong demand from our customers for high quality, hyperscale data center facilities across the globe, and we are excited to meet this demand by expanding to Africa's largest market," said Sureel Choksi, president and CEO, Vantage Data Centers. "With our global expansion over the last two and half years, we have become one of the fastest-growing hyperscale data center providers in the world."
The move marks the company's first foray onto the African continent. The company has facilities in North America and Europe, and recently announced its expansion into APAC through the acquisition of Agile Data Centers and PCCW's data center business.
"Johannesburg is the data center hub for sub-Saharan Africa due to its strategic location, IT ecosystem, fiber connectivity to the rest of Africa, and the availability of renewable energy," said Antoine Boniface, president, Vantage EMEA. "We look forward to not only opening the doors of our first African facility to our customers but also to becoming part of the local community."
After a busy 2020, this year has seen Vantage continue to expand. The company has begun the development of facilities in Berlin, Warsaw, and Newport. It also bought a plot in California's Santa Clara and filed applications to build two data centers in Dublin.