The US Department of Defense (DoD) claims that China pressured Brazil into reversing a ban on Huawei in order to receive Covid-19 vaccines.
The allegation, buried in a wider DoD report on China, does not include further details to back up its claim.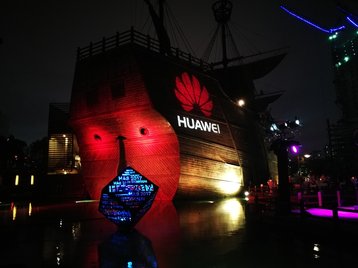 "In 2021, the PRC [People's Republic of China]'s Covid-19 related aid and vaccines were criticized for including political conditions," the report claims.
"For example, the PRC successfully used vaccine provision to convince the Brazilian government to reverse its ban on Huawei participation in its 5G networks."
The allegation matches a 2021 report by The New York Times, which suggested vaccine access was the explanation for an abrupt about-face by the Brazilian government.
The NY Times detailed how Brazil's president Jair Bolsonaro backed his US counterpart's efforts to build telecoms networks without Chinese equipment, and publicly criticized the Chinese-made vaccine.
But soon after the government appeared to have banned Huawei and blocked it from its 5G auction, Brazil changed course.
With Trump gone and hospitals overwhelmed with Covid cases, Brazil began taking shipments of China's CoronaVac vaccine. That same month, its 5G auction rules were announced - and did not exclude Huawei.
The nation's communications minister, Fábio Faria, said that he went to Beijing and met with Huawei executives. He admitted he asked for vaccines, but claimed that there was no quid pro quo.
At the time, the NYT said that "the precise connection between the vaccine request and Huawei's inclusion in the 5G auction is unclear, but the timing is striking."
The DoD's report, written by the Office of the Secretary of Defense for Congress, appears to be the first confirmation by the US government that it also believes that the timing is suspect. Whether it has further evidence is not clear - DCD has contacted the DoD and Huawei for comment.
Update: The DoD told DCD in a statement: "The report itself is based on a wide range of analysis and intelligence methods, which we do not reveal."