The US Air Force has selected Microsoft to support its Advanced Battle Management System, which aims to create a complete picture of the battlefield by combining disparate data sources.
The ABMS is then expected to be integrated into the Joint All–Domain Command and Control (JADC2) system, which hopes to combine Air Force, Army, Marine Corps, Navy, and Space Force data into a unified platform.
The DoD this month awarded ABMS contracts to 24 companies, including Microsoft, each with a $950m contract ceiling.
Advanced Battle Microsoft System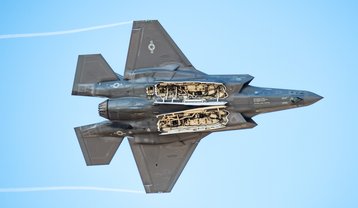 The contract award documents state that the companies will "compete for future efforts associated with the maturation, demonstration and proliferation of capability across platforms and domains, leveraging open systems design, modern software and algorithm development in order to enable Joint All Domain Command and Control."
Other companies include Altamira Technologies Corp., Amergint Technologies Inc., Carahsoft Technology Corp., Geosite Inc., Lyteworx Automation Systems LLC, MarkLogic Corp., Rebellion Defense Inc., Rhombus Power Inc., Soar Technology Inc., Vidrovr Inc, Advanced Simulation Research Inc., Borsight Inc., Datanchor Inc., Digital Mobilizations Inc., EFW Inc., F9 Teams Inc., Hewlett Packard Enterprise Co., Infinity Labs LLC, Radiant Mission Solutions Inc., Ortman Consulting LLC, Peraton Inc., R2 Space Inc. and Sierra Nevada Corp.
"Microsoft solutions will help transform legacy capabilities into an advanced, integrated system of systems, enabling secure, efficient multidomain operations from the enterprise to the tactical edge – even in degraded, disconnected, intermittent, low bandwidth and high latency (D-DILL) scenarios," Microsoft Federal president Rick Wagner said.
"We're confident that our portfolio of capabilities will support these requirements and provide innovative and agile IT services focused on mission value and user network experiences, while improving security, network availability, reliability and extending mobile access to the tactical edge."
Microsoft's Azure Government cloud will operate as the underlying technology platform for the ABMS solutions.
The company last year won the $10bn, 10 year, JEDI contract to deliver the vast majority of the US military's computing needs, but the cloud deal is currently being contested in court by Amazon Web Services. Jeff Bezos's company claims that it lost out due to personal interference by the President of the United States.