The International Atomic Energy Agency (IAEA) no longer has access to real-time radiation levels at the Zaporizhzhia Nuclear Power Plant in Ukraine.
Europe's largest nuclear plant is now controlled by Russian forces, who have disconnected fixed-line Internet and some mobile services around the site, making monitoring impossible.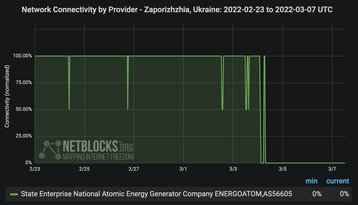 "The disconnection of fixed-line Internet and some mobile service in and around the Zaporizhzhia Nuclear Power Plant in Ukraine is raising concerns over public safety, with radiation levels no longer published and the IAEA unable to monitor," Internet outage monitor NetBlocks said.
The facility is still being run by its normal staff, but they must seek approval from a Russian commander before making any action.
When Russia seized the facility last week, they damaged a walkway between two of the six reactors, and started a fire at a nearby building used for training. Workers shut down some of the reactors and put others into a low power mode.
While the reactors are heavily reinforced, spent fuel rods and power and cooling systems are more exposed. Given the huge risk, communication is vital to maintain safe operations.
"Ukraine's nuclear regulator informed the IAEA today that it had started having major problems in communicating with staff operating the Zaporizhzhya NPP," IAEA director general Rafael Mariano Grossi said.
"Less than 24 hours after Ukraine's regulatory authority said it had been able to maintain communications with Ukraine's largest nuclear power plant, it today said the phone lines, as well as e-mails and fax, were not functioning anymore. Mobile phone communication was still possible, but with poor quality."
This contravenes one of the IAEA's key rules of nuclear safety and security to ensure "reliable communications with the regulator and others."
Grossi added: "The deteriorating situation regarding vital communications between the regulator and the Zaporizhzhya NPP is also a source of deep concern, especially during an armed conflict that may jeopardize the country's nuclear facilities at any time."
As of the limited data coming out of the site, radiation levels currently remain normal.
Last week also saw Russian forces take over the Chernobyl nuclear power plant.