Broadcast and facilities company Timeline Television has opened a new studio and data center in west London, UK.
The 9,700 sq ft (900 sq m) Ealing Broadcast Centre offers new studios and production facilities in Ealing, west London. According to IBC, as well as a 2,000 sq ft (185 sq m) studio, virtual reality room, dressing and voiceover rooms, production offices and editing suites. Along with control rooms, the site includes an on-site data center.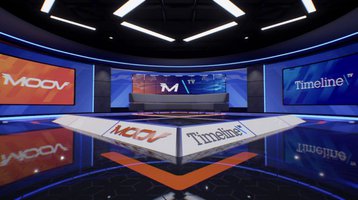 "One of the other major advantages is we've created a data center where we can expand up to something like 60 racks in the space that's there." It reportedly has 'significant' uninterruptable power supply infrastructure, including generators on the roof. "It really is at the cutting edge of redundancy and backup technology," said David Harnett, Timeline's head of operations.
"We have a large data center in our new facility," Timeline CEO Daniel McDonnell told SVG. "It's a key attribute; More and more clients are remotely producing programs from their location using virtual machines and systems in our data center. For me, that counts as cloud broadcast."
The EBC building has scope for expansion, with Timeline currently using only two of the seven floors. The site was previously a data center, which the company found useful due to its high ceilings.
"It's very hard to find a nice glass office building that also works for the broadcast market, unless you purpose-build the whole building and so this was a fantastic find, and being able to create the studio space in the basement," said Harnett. "I couldn't believe it when we first went down there because they had these cavernous areas with six-and-a-half meter ceiling height."
The EBC had to be built more quickly than initially planned as during the build Timeline was contacted by Channel 4 and Whisper Films. Building work started in May and the Paralympics gave a hard deadline of August.
The data center part of the property was previously operated by Redwire Data Centre, a subsidiary of Kingsmead Homes; the company said the site had capacity for up to 800 racks and 3MW. The company began operations in 2016, it's unclear when the company exited the site. At the same time, the site was also leased to hotel chain Premier Inn, which is seemingly still in operation.
In September a number of UK television channels went off the air after a fire suppression system was triggered at a Red Bee Media broadcast facility in London. Smoke was reportedly seen at the site, activating a fire suppression system that triggered a "sonic wave" that shut down broadcast servers,
Channel 4 and Channel 5 were both temporarily taken off the air for around 30 minutes, while Welsh broadcaster S4C said its programming on Freeview was affected. Channel 4 reportedly had to broadcast via an emergency recovery system as a result. The BBC avoided the worst of the disruption as it was able to switch its operation to Salford where its services are duplicated. A number of C4's live streaming services were affected for a number of days, while subtitles and other accessibility services were offline for months.
More in Construction & Site Selection