TierPoint has completed work on a new data center in St. Louis, Missouri.
The company announced this week it has completed construction of the facility at 2315 Millpark Drive in the city's Maryland Heights suburb.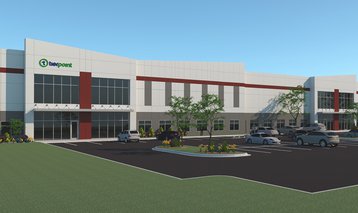 First announced in September 2021, the 23,000 square foot (2,100 sqm), Tier III-quality facility offers 14,500 sq ft (1,350 sqm) of production or raised floor space. The company said it invested around $20 million in the project, and there is an additional 23,000 square feet under lease for future expansion.
World Wide Technology (WWT), a global technology solutions provider with headquarters in St. Louis, has signed on as an anchor tenant of the new facility.
"WWT's ever-expanding need for data center space drove us to partner with TierPoint," said Mike Taylor, WWT chief technology officer and executive vice president, services. "TierPoint's Millpark facility is close to our global headquarters and tech campus in St. Louis, which allows us to scale operationally in our Advanced Technology Center. The WWT and TierPoint strategic partnership includes going to market together to solve customer challenges and serving as a strategic supplier of software, hardware and services to TierPoint, as they grow their business. We look forward to growing all aspects of our relationship in the future."
TierPoint operates two other data centers in and around St. Louis, along with a fourth Missouri data center in the Kansas City area.
Earlier this year Argo Infrastructure Partners invested half a billion dollars to acquire TierPoint. Argo previously invested in TierPoint alongside Wafra and Macquarie Capital Principal Finance in a 2020 $320 million raise.
Founded in 2010, TierPoint operates more than 30 data centers across the US, mostly in second-tier markets. The company has expanded through a mixture of new builds and acquisitions, including Colo4, Perimeter Technology Center, Adhost Internet Advertising, Baltimore Technology Park, Philadelphia Technology Park, Xand, CxP Data Centers, Altered Scale, Windstream Hosted Solutions, and Cosentry.
More in Construction & Site Selection