Three shipping firms are testing SpaceX's Starlink satellite Internet service.
Columbia Shipmanagement, container ship giant Costamare, and tanker firm Enesel are trialing Starlink's satellite connectivity offerings on a number of their ships.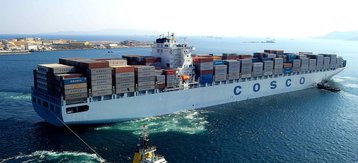 CSM to trial Starlink
Columbia Shipmanagement (CSM), the ship management arm of the Columbia Group, this month announced it is conducting a trial of Starlink's satellite Internet service on a number of vessels.
Columbia Group CEO, Mark O'Neil said: "We are delighted to be trialing this technology to keep our ships better connected. Starlink has the potential to revolutionize the maritime industry by providing reliable and affordable internet connectivity to ships, even in the most remote parts of the world. This can help improve crew welfare, reduce costs, and enhance safety and security, making it a game-changer for the industry."
CSM said Starlink can facilitate remote monitoring of vessel performance and maintenance needs, allowing for proactive maintenance scheduling and reducing the risk of unplanned downtime.
The company is exploring Starlink in conjunction with an SD-WAN (Software defined wide area network) in order to combine satellite Internet technology as well as cellular 5G near shore connectivity into a unified communication package.
We spoke to CSM about its use of Edge computing in the latest DCD supplement.
Costamare testing Starlink on four ships, Enesel on one
Container ship giant Costamare is reportedly trialing Starlink on a number of its vessels.
Smart Maritime Network reports the company has stalled Starlink terminals on four of its vessels in partnership with communications provider Navarino.
Costamare's fleet totals more than 100 vessels. During the trial, the company will assess how it may be able to benefit from greater access to data and online services.
"Starlink has a lot of potential for us. With its very high speeds and low latency it could enable completely new ways of working in terms of the technological tools we can implement across our fleet – to benefit our business operations, our crews' welfare, as well as the compliance needs of our fleet," said Themis Sardis, Head of IT for Costamare. "We pride ourselves on routinely testing new tools and advanced solutions that may give our company an edge, and of course which can contribute positively to the well-being and safety of our seafarers onboard."
Maritime technology company Navarino signed a distribution with Starlink to resell to maritime customers in January 2023. Navarino previously signed a similar agreement with OneWeb in May 2022.
Navarino is also working with tanker firm Enesel, which last month began a trial to use Starlink on the crude oil tanker MT Kanaris 21.
Andreas Panagiotaras, IT Manager for Enesel S.A., said: 'We are always interested in exploring ways to keep our modern fleet at the forefront of technological innovations, and so trying Starlink is a natural step for us. We chose Navarino to implement this project with us as we know that they are the leading technology partner in the market and we have enjoyed an excellent partnership with them for many years."
Starlink has signed distribution deals with maritime communications firms Marlink – which also has a deal in place with OneWeb – as well as Elcome International, Tototheo Maritime, and Anuvu.
The company has also signed deals with cruise liner providers Royal Caribbean, Norwegian Cruise Line, Carnival Corporation, Windstar Cruises, and Hurtigruten. Boutique cruise operator SeaDream Yacht Club's two luxury yachts, SeaDream I and SeaDream II, have also deployed Starlink, as well as American Cruise Line's 17 small ships and riverboats in the US.