The city of The Dalles, Oregon, has filed a suit in state court to ensure that how much water Google uses for its nearby data center campus is kept a secret.
The city hopes to overturn a ruling by Wasco County's district attorney that the hyperscaler's water use is public record and should be provided to local publication The Oregonian. It is suing the paper in an effort to reverse the decision.
The suit comes ahead of a crucial city vote over whether Google should be able to get more water. Again, how much water is not known: But it would be too much for the city's current water system, with Google proposing to spend $28.5 million to expand it by five million gallons a day.
That water would be used by two new potential Google data centers, which the city this October approved tens of millions in tax breaks for. The company has received more than $240 million in tax breaks on its existing facilities over the past 15 years.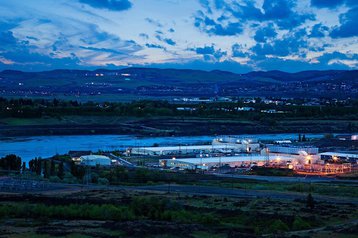 Water use at the existing and proposed data centers have been a point of local contention for years, with public scrutiny growing amid a lengthy drought that has many concerned about long term water supplies.
The Oregonian/OregonLive sought to find out just how much water the company uses at its data centers, first by simply asking the city. Emails released in the lawsuit show that city attorney Jonathan Kara refused to provide the information, claiming it was a trade secret.
Reporter Mike Rogoway hit back: "The trade secrets exemption does not apply because the information is quite plainly not secret. Google's water use connected to its data centers has been disclosed in other states.
"If Coca-Cola's secret formula were public knowledge in Arkansas, it surely cannot be considered top secret in Oregon. Even if it were a trade secret, the public interest requires disclosure in this particular instance. It is important to understand the Oregon Legislature envisioned instances in which even true trade secrets should be disclosed in the public interest. That is testament to the strength of Oregon's public records law, which is primarily a law of disclosure."
In a subsequent appeal of the city's decision, Wasco County District Attorney Matthew Ellis ruled in the news organization's favor on October 15. To block the release, The Dalles are suing the publication.
The Oregonian is being represented by the Reporters Committee for Freedom of the Press, which is covering the legal costs of the suit.
"Google's attempt to cloak its use of a vital community resource - water - is irreconcilable with the requirements of Oregon public records law. Oregonians have a right to this important information," Ellen Osoinach, staff attorney for the committee, said.