The city council of The Dalles voted to grant new property tax breaks for two new Google data centers, worth millions of dollars.
But before Google starts building the data centers, it hopes to significantly increase its water usage with a new city agreement. That deal is set to be voted on next month.
The potential data centers in Oregon's Wasco County were first revealed in September, when Google subsidiary Design LLC proposed the facilities. The company acquired a 74-acre plot of land belonging to Northwest Aluminum in 2016, but is only planning to use the land now.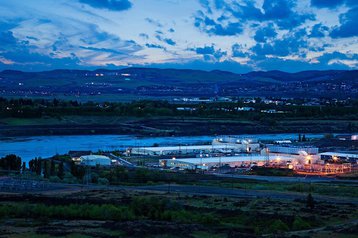 Google has steadily built out a large data center campus in The Dalles, Oregon, over the past 15 years. Over that period, the trillion-dollar company received three large tax breaks to support development.
The new tax deal still gives it large concessions, but is better for local communities than the previous arrangements, The Oregonian reports.
Should the facilities go ahead, Google will pay $3 million upfront for each data center, and then half of the normal property taxes for the first new data center and 60 percent of for the second. That's double what Google pays on its previous agreements.
If the facilities cost $600 million apiece, the two facilities combined are expected to bring in more than $6 million annually to the city, county, and local government agencies, according to county estimates.
That would increase what Wasco County collects in total property tax revenue each year by 15 percent.
The deal will also see Google transfer 35 acres of property to Wasco County and give The Dalles and the county an option to buy the land set for the new data centers in the unlikely eventuality that the company ceases operations.
But all of this development hinges on another deal - where Google would pay $28.5 million to expand The Dalles' water supply to meet the future data centers' water needs. This proposal, which has been met by some local pushback, is up for vote next month.
Public works director Dave Anderson wrote in a memo to the city council that future water demand in The Dalles could rise as high as 17.5 million gallons a day, up from a daily capacity of 9.9 million gallons now.
The city is 15 years into a 20-year plan for its water systems, Anderson wrote, and "did not anticipate the type of development" Google plans on the former smelter site. But as well as paying for upgrades, Google will reportedly be handing over some of the groundwater rights associated with its property to the city.
More in Construction & Site Selection