Google has broken ground on a new data center in The Dalles, Oregon, while purchasing more land to build further capacity. The news comes days after the company announced an expansion of the Google Compute cloud, which will include a new US West cloud region based in Oregon. 
This week, Google broke ground on a new $600 million data center at the Dalles, where it already has multiple data centers. It also bought a 74 acre plot of land belonging to Northwest Aluminum, where the local Fort Dalles Rodeo Association has held its summer events since 1975, according to The Oregonian.  Google has no plans to build on this site in the immediate future, but the Rodeo Association is looking for a new home.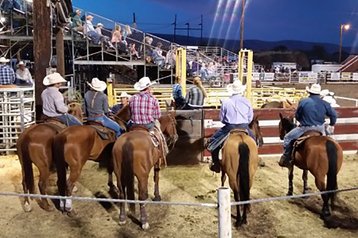 Howdy, pardners! 
The new data center being built on 23 acres which Google bought from the Port of The Dalles, is Google's third facility in The Dalles, should be open by 2017, and will support the Google Compute expansion, which will include a new US West region, as well as a Japan region to be based in Tokyo. 
Google is not hustling the rodeo away. "We don't have plans to build on this piece of property in the immediate future, but we want to ensure that we have options to continue to invest in The Dalles in the future if our business demands it," said Darcy Nothnagle, Google's Northwest head of external affairs in a written statement.
Nothnagle said the rodeo is free to use the space "for the next couple of years" while it looks for a permanent home, and Google will provide money for the rodeo to replace equipment it auctioned off in September, according to the Hood River News. 
There won't be a rodeo this summer, but the association's president Damon Hulit is reportedly looking to move the event to a different location within the area of land bought by Google, as soon as 2017, which could be available for other events such as circuses and carnivals. 
Google built its first ever data center in The Dalles, back in 2006, and opened its second facility there in 2015. The new one takes its investment in the area to $1.8 billion. The company has given grants of $1.2 million to Wasco County schools and non-profits since 2008, with a $100,000 grant to the County  Library announced this week.